Mawkin are a young folk band  in the modern idiom, with a wide range of influences but pleasingly fine musical technique and appreciation of old folk tunes from many traditions, including the Robert Johnson song Before You Accuse Me (which Mawkin could rightly argue comes from an American folk tradition. – though whether you could say anything similar about a cover of the Kinks' Harry Rag is dubious.)
They do however avoid the cliches and deserve great credit for focusing on the main business in hand: entertaining an audience – and as boys from Harlow and Brentwood, Chelmsford was as near to a home gig as they were going to get.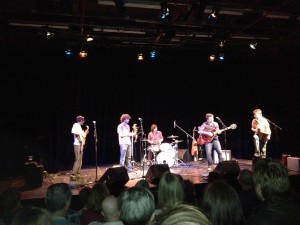 Unlike, say, Bellowhead, Mawkin restrict themselves to a limited range of instruments: drums, electric bass, fiddle and melodions, plus the two guitars played by the band's de facto leader and spokesperson-in-chief, David Delarre (he also played a mandolin, saying his guitar had been shrunk in the wash.)  Delarre also sings on occasion, but vocals are very much secondary to the playing, and rightly so.
What was very noticeable was how much fun the band was having on stage.  The banter was relaxed and light-hearted, between themselves as much as with the audience – a band at ease with themselves, their music and their fans, as it should be.  This communicated itself through the music, which from the word go eased into a warm and melodious rhythm with all players working for each other tightly and little time devoted to musical self-abuse!  Delarre indulged in one guitar solo, while his brother Jamie on fiddle, Nick Cook on melodion, Danny Crump on bass and Lee Richardson on drums all had their moments in the spotlight without ever hogging it.
All told, an excellent and entertaining night out.  Highlight for me was the excellent and catchy Diogenes, a tune that may give more than a few hints on the future direction of the band with its cheeky folk-rock and hints of north Africa.   I will watch for developments with great interest.