Imagine if you will a play pitched somewhere midway between Shirley Valentine, Roman Holiday and Private Lives, with a hint of Whitehall farce thrown in for good measure, and you will have something close to Matthew Barber's adaptation of Elizabeth von Arnim's 1922 novel Enchanted April.
Set in 1920s London and Italy, the play was filmed by Mike Newell in 1992 with a fine cast and clearly hits the spot for audiences who enjoy bittersweet romantic comedy with character development and a satisfactory resolution.  Not that I've seen  the movie but it's not difficult to see that to succeed it would have to marry together frothy humour and the reflective journey each character travels, literally and metaphorically, from the reality of their frightfully starchy duty-bound middle class London lives.
Bringing this soufflé to the amateur stage was the task director Nick Caton and his cast took upon themselves on behalf of the Writtle CARDS, and which I enjoyed on a glorious night in June.  As Nick's programme notes put it:
"I've done nothing but what was expected of me all my life… preparing for nothing but… oblivion," says Lotty early in the play.  How many of us can relate to that?  More importantly, how many of us have ever done anything about it?  So many of us lead lives that have an inevitability about them but so few of us try to make a change.  Lots convinces herself and three other (initially very different) women to try and change their structured, monotonous lives by renting a castle in the sun of Italy for the month of April.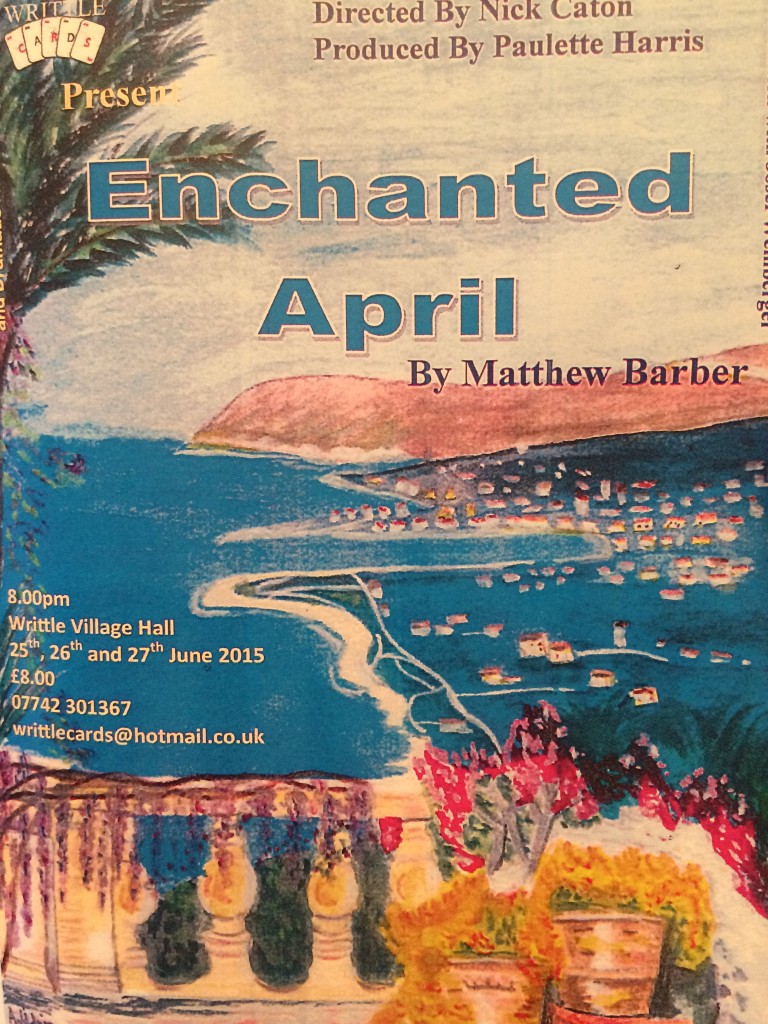 First task was how to depict the contrast between Act 1 in a rainy London, whereby every scene is ended by a sharp crack of thunder that had actors and audience alike jumping in their seats, and Act 2 set in San Salvatore, a real place not far from Genoa – and all this on the compact performing space offered by Writtle village hall.
London was marked by an underlit stage featuring black drapes and black costumes, as if the characters were perpetually coming from or going to funerals.  London may be drab in the rain, though hopefully there is rather more to it, so we must assume the black and sound effects to be a metaphor for the drab and frustrated, albeit comfortable lives of the characters (one of several metaphors employed in play and production alike), contrasting sharply with the happy Mediterranean music, wisteria-laden terrace and painted backdrop of a glorious Italian coast, complete with bright sunshine in which the characters can bask.
Lotty is a frustrated dreamer, married to stern and harsh solicitor Mellersh Wilton, a man who effects to be a post-Victorian patriarch minus the children.  Perhaps the fact that he allows Lotty to go to Italy is more a reflection that  he is not used to being defied, and has no idea how to react, such that his bark is much worse than his bite – supported by his mellowing through the second half.  In fact the old chap is nothing like as severe as at first he seems – which makes the Daniel the perfect actor to portray him, possessed as he is of charm and stage presence aplenty.
The fact that Jodee Goodwin towers over Daniel Curley may be another jokey metaphor, telling us that if Lotty pushes back against her husband she will meet with bluster but no serious resistance, so much of the first half is about Jodee's fluently chatty but secretly reflective Lotty girding her loins for the inevitable confrontation, where eventually she waves away objections as if they were slow full tosses.
Her greater challenge is to find a new life once out in Italy, and her reasoning to bring Mellersh out of his comfort zone and kick their marriage back into life on equal terms.  This she does with aplomb, though at times I wished she would overcome her shy and gentle nature and give him a kick where it hurts!
Rose Arnott, by contrast, is a prim and proper religious lady with a guilt complex whose husband is a writer with a flamboyant alter ego.  Played by an equally well-cast Leila Francis, an actress who has demonstrated on previous occasion the ability to convey deeper sensitivities with no little skill, Rose, confronted by her womanising husband in the Italian sun, unleashes her full sexuality and gives him both barrels, possibly not what Jeremy Pruce's Frederick expected.  While it worked well, this could also have relinquished a touch of subtlety and been played more for laughs.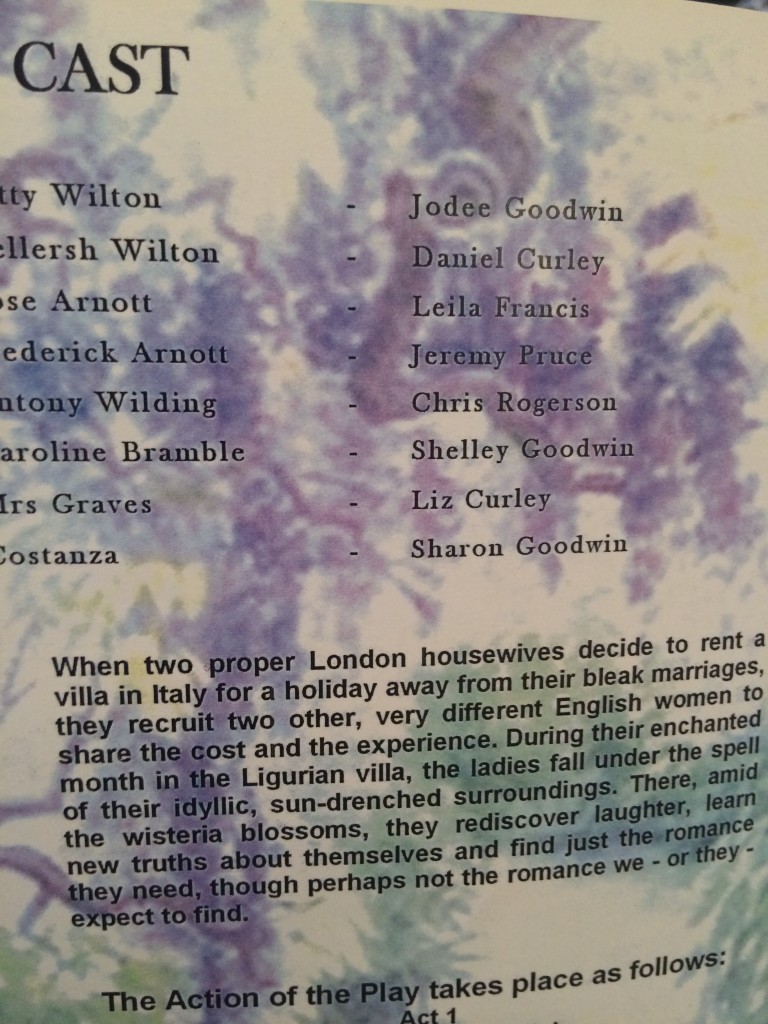 Ah, but the playing for laughs was delivered like true pros by Mellish and Liz Curley's Mrs Graves, the latter being one of the other two ladies brought along to share the castle.  Where Shelley Goodwin's Lady Caroline Bramble maintains a cool air of tragedy beneath her suave persona, Mrs Graves is easily softened by gentle flattery at the hands of Anthony Wilding, the owner of the castle (Chris Rogerson), to great comic effect.  A fine performance indeed from a talented comic actress.
But what of Mellish?  "I'm a big boy now," he tells maid and cook Constanza (cue a deliciously ironic laugh), but evidently he fails to heed her warnings about the heating system going "boom!" – leaving Mellish playing a version of the three card trick with one flimsy towel and no other visible clothing.  Unsurprisingly this won the biggest belly laugh of the evening.
Praise too for Sharon Goodwin's Constanza (this being largely a family affair between the Goodwins and the Curleys), who with the aid of a fake tan adds Italian charm and attitude in equal measure, having learned by rote speeches in Italian, a language of which she knows nothing.  On a previous occasion I worked with an actress who in a revue sang the role of the Hungarian inmate in a version of the Cell Block Tango from Chicago – so I know full well how difficult it is to learn lines phonetically and deliver a performance of credibility in the process.
One small quibble: there is a sketch painted of Rose by Wilding, which is clearly accomplished but portrays a different woman with a different hairstyle in a different dress in a different location, though I appreciate that these things have to be done well in advance and the work was commissioned before the costumes and hairstyles were decided.  I had the same dilemma once in directing a production of Harvey, which required a portrait of Harvey the rabbit with the actor playing Elwood P Dowd, taken from a photograph (this now sits on the wall above my staircase, with pride!)
But overall this is unquestionably a successful production and thank you Nick Caton and thank you Writtle Cards for an enjoyable night out, enjoyed greatly by the audience.  Where does it all lead?  Why, an enchanted May of course!