"We believe the arts should be accessible to all" – LAMDA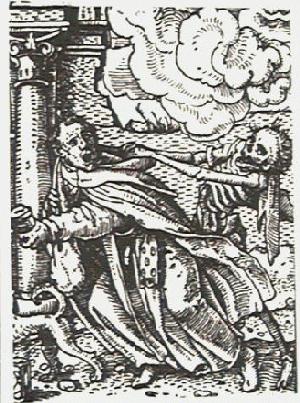 It's a rare thing these days to leave a theatre with your expectations blown clear out of the water, but that happened when my party visited the rather delightful Pleasance Theatre in Islington to see a classic Jacobean tragedy within LAMDA's winter season.  For those who have yet to see The Revenger's Tragedy, formerly attributed to Cyril Tourneur but now generally recognized as the work of Thomas Middleton, this is the blurb on LAMDA's website:
Vindice and Hippolito are seeking revenge.  But the decadent Italian court they operate in will not provide it easily. Schemes and counter-schemes collide in this vivid and often violent tale of lust, treachery and aristocratic ambition.  First performed in 1606, and published in 1607, The Revenger's Tragedy typifies the satire and cynicism of much Jacobean tragedy. Secret crimes, bitter enemies, decadent celebrations, black humour, doomed love and relentless betrayals…
The first thing to note is that Dora Schweitzer's creepy production design is bang on the nail.  As we sat the stage before us looked the very image of a claustrophobically dark Jacobean manor, redolent of secret machinations, scheming and plotting – or as the spiel from LAMDA's website puts it, "all the trappings of a modern thriller wrapped in the excess and deception of a 17th century Italian court."
A clear wooden stage is dimly lit largely from the wings, all the better to show up the wispy dry ice.  A metal candle stand is at each end, mock ceiling candelabra overhead, and a dark wooden set to the rear, of which more later.  Music plays, maybe an atmospheric medieval cantata led by a solo male falsetto voice.
As characters appear on this darkly lit stage, the costumes are displayed in sharp relief.  Unmistakably Jacobean in design, they are enhanced by satirical use of masks in the first and final scenes.  We open with one masque and finish with another; in the first instance, the celebration is to the glory of the Duke, played in bald wig, white makeup and a northern accent by Jack Bandeira to appear a vain, grotesque and corrupt figure, certainly the sort you would consider guilty of treachery to warrant Vindici's revenge for the murder of his beloved.
As the revenger-in-chief, Joseph Reed cuts an impressive figure, at once cynical yet conniving, employing his brother Hippolito (Scott Miller) as his primary conspirator, where Vincent Lai's duplicitous and lustful Lussurioso is both a means to an end and an ironic twist, given that both parties are trying to employ the other in their scheming.
This is, of course, but one of several such darkly comic and vindictive schemes going on, to which the court is but a perfect stage to host the bitter, vengeful, greedy and ambitious plots played out (this run-down of the characters might prove helpful!)  It's worth saying that while the the players employ a variety of accents (including American), they entice the audience into this world of  breathless intrigue such that you barely notice the global nature of the Italian court (full cast list below.)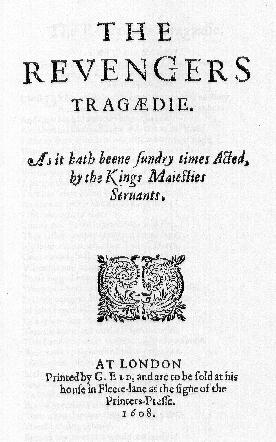 Pacing is strong and slick, quite rightly so, but this does not dilute the essence of audience enjoyment thanks to honed phrasing and body language.  Full marks to the director (Rodney Cottier) for micromanaging every nuance of performance, every gesture and word spoken, not only to enhance clarity but to extract from each performance the full gravity of their deeds and meaning from what could be just words words words.
Stage conventions are cast aside, but with a studied care.  Asides come thick and fast, so actors frequently break the fourth wall and talk apace to the audience.  In dialogue, angles are used to take advantage of the stage depth, so we see the full 360 degrees of actors, contravening tradition to good effect.
More than that, the stage and also the balcony above are used to display every lascivious behaviour – including clothed sex and murder. Cottier is aided by some of the details behind Schweitzer's set, which on occasion opens out into boxes used variously as a bed, a tomb and a grave.
The risk in working this closely on every detail is that the production fails to coalesce, something you could not say in this case.  Many would consider this to be a flawed production with promise, though I rather take the view that the director has considered the weaknesses therein and turned them round into strengths.  In my own forthcoming production of The Rivals, I shall strive for equal attention to detail.
Tell the truth, I was thrilled by the brilliance of intensely atmospheric production design, minute direction and clarity of interpretation, costume and acting alike.  Rarely have I seen all the fine work done to greater effect, even by the great and the good.  Loved it!
For drama students there were clearly stars of the future among the cast.  This was a massively impressive and just slightly grotesque entertainment.  Mark the names below – some may well be household names of the future.
PS.  The show takes place over two hours without an interval, so be sure to have your loo break in advance.
---
Castiza, Nencia, Antonio's Wife, Coronation Dancer: Alexandra Jiménez

Antonio, Fourth Officer, Third Officer: Archie Madekwe

Ambitiosa: Claire Lowrie

Catamite, Second Officer, Lord, Fourth Conspirator, Trial Guard, Coronation Guard: Eduard Buhac

Spurio, Fifth Officer: Fabien Frankel

First Cardinal, First Officer, Dondolo, Second Conspirator, Coronation Guard: Freddie Gaminara

Supervacua: India Shaw-Smith

Duke: Jack Bandeira

Junior, First Conspirator, Coronation Guard: Jack Gillett

Keeper, Second Cardinal, Supervacua's Man, Third Conspirator: Jordan Peters

Vindici: Joseph Reed

Duchess: Maisie Preston

Gratiana, Sordida, Coronation Dancer: Rosa Hesmondhalgh

Hippolito: Scott Miller