January 2012
My daughter has her 17th birthday shortly.  Where did that time go?!  Anyway, for some years her birthday tradition has been for me to go over to her mum's house and cook a Chinese banquet, this being her favourite meal.  Dishes may include chicken with cashew nuts and yellow bean sauce, pak choi, chow mein, sweet sour and a variety of others, but the centrepiece is always sizzling fillet steak.  It's a crowd-pleaser of a dish, not cheap but guaranteed to make your guests go "WOW!", if indeed that is what you want them to do!  Remember also to remind them that this dish is a tad spicy, or you may get further WOWs!!
First things first: you need a sizzling dish.  This is a cast iron dish, typically about 10 inches by 6, which comes with a separate cast iron carrying handle and a wooden base to prevent your polished dining table sizzling in the process.  One of the joys of this dish is that you can cook the food in advance, but an hour before you are ready to serve, heat up your oven to the hottest it will go and put the sizzler dish (not the handle or base!) at the top.  It needs to get seriously hot!
Also, buy a good piece of fillet steak, which is very expensive but will be sliced thinly.  This you do by putting it in the freezer for a couple of hours, give or take.  Check it at regular intervals.  It should NOT be fully frozen but firm enough to slice without chopping your hand off at the same time.
Take the best big knife in your possession, remembering that every half way serious cook should have in their armoury top class razor-sharp blades.  If yours are not, sharpen them to within an inch of their lives!!
Then… slice the part-frozen steak across the grain to form wide, flat fillet coins. You may be surprised how far it goes, but the resulting slivers of meat will be mouth-wateringly tender. Leave to rest and defrost naturally.
Finally, hot chilli sauces:  there are lots about, so feel free to experiment to find the one best suited to your palate.  Unless you are wimpy about chilli, don't use mild sweet chilli sauces though!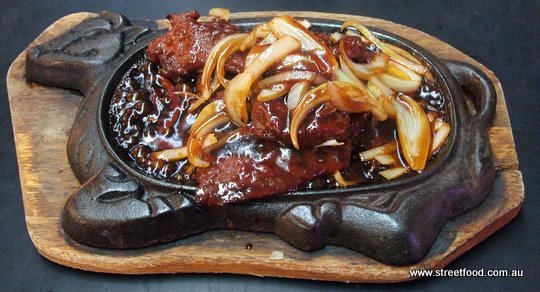 Ingredients:
Fillet steak, thinly sliced (see above)
1-2 onions, finely chopped (or however you like them!)
Baby corns, chopped
Mushrooms, wiped & chopped
Garlic/garlic puree (lazy chopped garlic ideal)
1 tsp black peppercorns, crushed to a coarse grain in a pestle & mortar
Hot chilli sauce (see above)
Worcester sauce
Dark soy sauce
Black bean sauce
Tomato passata
Cashew nuts, halved
Oil (try sesame or chilli oils for a change)
Wipe oil in a heavy cast iron frying pan and put on your hottest ring til it's smoking.  Season the steak with sea salt and black pepper.  Sear the pieces very rapidly on both sides, then put to one side (eg. on a warmed plate.)
Put a little oil in a wok and heat that til very hot.  Add onion & mushrooms and sauté for 2 minutes.  Add corn and garlic and sauté for a further minute.  Toss the cashews in to coat in oil, then add remaining ingredients and cook for 1-2 minutes until bubbling vigorously.  Return the steak to the pan and stir into the sauce.  Take off the heat and reserve until ready for serving.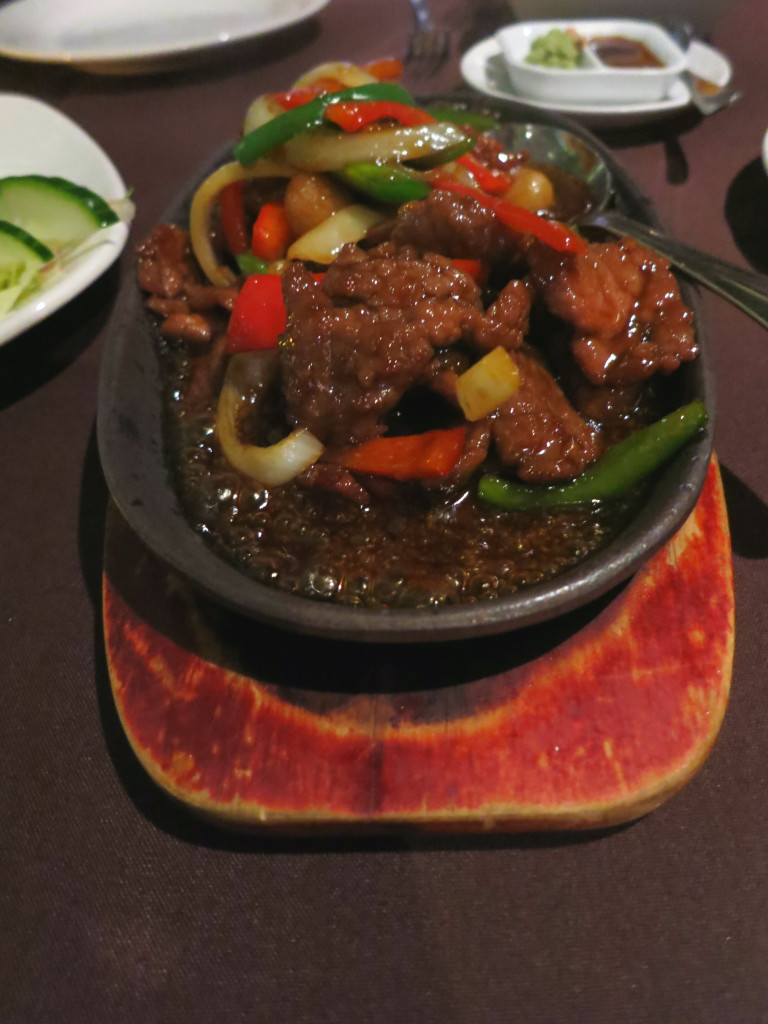 To serve:
Take the sizzler pan from the oven using the handle, and place on the wooden support on the table.  Take the wok with the cooked dish to the table and carefully pour into the sizzler (be warned – the reaction is immediate!)  Serve with steamed rice and any other Chinese dishes you fancy!