Right, imagine that I have my entire family to dinner.  Not quite as horrendous as it sounds, since even if you include my ex-wife and her mum we still all fit around two smallish tables.  But I have to feed them all and their various eccentric eating preferences (not too bad actually.)  They all like lamb, but how to do something easy to cook and serve, fun and delicious to eat?  In the end I bought a leg and a shoulder of lamb, and cooked it in two different ways: a long, slow leg roast in the Aga bottom oven, and pot roast marinated shoulder.
All very tasty, to be sure, and won huge plaudits from the assembled family, but my mind is always on improvement.  Leg is really too lean for the long, slow roast, so this time I will try to marinade and pot roast lamb shanks, and slow-roast the shoulder.  Both can be prepared well in advance, and served with any combination of veg you happen to fancy.
1) Marinaded pot-roast lamb shanks
At least 48 hours before serving, buy good quality shanks from your butcher, and slit in several places.  Rub a cut garlic clove over each.  Into each slit place a chunk of garlic and a mint leaf.  Put the shanks into a large bowl or dish.  Sprinkle with sea salt, ideally Maldon smoked salt, and fresh-milled pepper.  Add more crushed garlic cloves, fresh thyme, fresh rosemary, a slug of olive oil, balsamic vinegar, a tablespoon of redcurrant jelly and some red wine.  Cover and leave in the fridge for 24 hours, turning occasionally.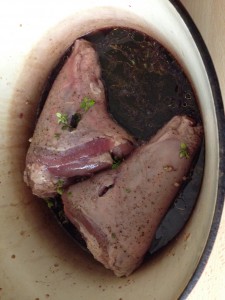 When ready to cook, heat a heavy oven-proof casserole (a Le Creuset is ideal) on the hob.  Add shanks and the marinade plus some extra red wine and a little home-made stock (I use my own chicken stock, which works fine.)  Cook in a slow oven for 2-3 hours, longer if you like.  Drain off liquid and heat separately, thickening with cornflour stirred into water into a smooth paste.  Before serving, put in a warm oven for 15-20 minutes to crisp.
2) Slow-roast lamb shoulder
There are several ways to do this.  The conventional way is to ask your butcher to take the shoulder off the bone, then roll and stuff it, or do it yourself if you have a decent boning knife and a lot of patience – shoulder is far and away the trickiest joint to bone.  But for simplicity and flavour, leave the meat on the bone.
Either way, the recipe works best if you start in a very similar way to the first: make slits and stuff with garlic and rosemary.  Rub the skin with salt and olive oil.  Then put in a hot oven (eg. Aga roasting oven) for about 20-30 mins.  Remove, put foil over the top, then set your oven to the lowest possible temperature, or in my case put it in the lower oven in the Aga.  The time you cook it for can be flexible, though it has worked with 18-24 hours cooking.  Less should be no problem at all – but just take off the foil and put it back in the hot oven for a few minutes before refoiling and taking it out to rest.  This should be around 15-20 mins.
Both should be utterly tender and delicious!