When I was at university and staying in a shared house, belly pork was, at 30-something pee per pound, among the cheapest digestible meats you could buy. As such, it was cooked at least once every week.  I mentioned it some while back in a blog on cheaper cuts of meat, as follows:
"…you can buy humble strips of belly pork and cook them very slowly for a long while, which I do in the bottom oven of the Aga.  The fat will turn crisp and the meat will be meltingly tender, and you'll have a perfect crust of crisp crackling to enjoy – bliss!  Small wonder it's become a staple of the restaurant menu these days, albeit a bit of a cliche these days."
How right the last point was; you can barely go to a pub or bistro without seeing the ubiquitous belly of pig making its obligatory appearance.
However, I neglected to explain how versatile belly pork can be – and it's the presence of the fat that makes it such a winner in many a cuisine.  For example, you'll find plenty of Chinese recipes employing the much maligned belly (this is a great recipe); Novelli does it slow-braised with honey and cider (see here); Ottolenghi slow roasts it with rosemary and garlic (see here), and Ramsay does with star anise, fennel and cardamoms (see here.)  Pretty much every TV chef worth their name does a recipe involving pork belly!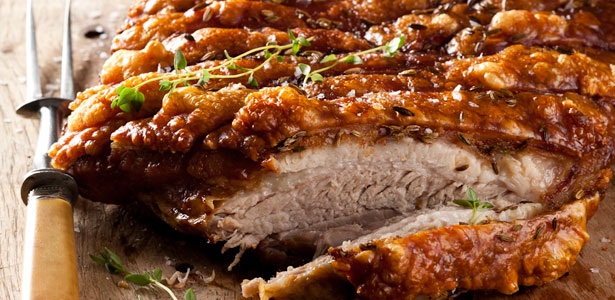 For myself, I've tried several ways with this wonderful raw material, my favourite of which was porchetta – though that was a very involved recipe and this one is particularly aimed at making for a cheap and nourishing student meal… so I will choose braised and roasted pork belly with proper crackling.
The best way to do this is in a piece, but in student life cooking for a group is not always an option – and besides, you have to ask for that since it's usually displayed pre-sliced into thick rashers.  While these are available at most supermarkets, my recommendation is to try either a local butcher, who may cut you a deal near the end of the day, or a market stall, where the best option may be to buy a pack and freeze what you're not using immediately.
If you have time, brining is brilliant, but I'll assume that is not an immediate option so we will proceed to the recipe itself:
Ingredients
2 tbsp fennel seeds
1 tsp black peppercorns
1 small bunch thyme, leaves only
3 garlic cloves
3 tbsp olive oil
1½ -2kg/3lb 5oz-4lb 8oz piece boneless pork belly, skin scored
2 lemons
Method
Toast the fennel seeds and peppercorns in a dry frying pan for a couple of mins.
Pound them together in a pestle and mortar with some flaked sea salt, the thyme and garlic to make a paste. Mix with 2 tbsp olive oil and rub all over the flesh of the pork. Cover and chill, leaving to marinate for a few hours or overnight.
When ready to cook, rub the skin of the joint with plenty of salt and 1 tbsp more olive oil. Sit on a wire rack in a roasting tin and roast at 200C/180C fan/gas 6 for 30 mins (or roasting oven of the Aga.)
After this time, squeeze the lemons over the skin and turn the heat down to 180C/ 160C fan/gas 4. Roast for a further 2 hrs – though in my case the slow oven of the Aga for much longer would be the preferred option.
Finally, turn the heat back up to 220C/ 200C fan/gas 7 and give it a final blast for another 30 mins or so, to finish the crackling.
Allow to rest somewhere warm for 20 mins. Carve up into chunks or slices and serve with the braised red cabbage and potatoes of your choice (my family would go for roasties.)
What you should be left with is meltingly tender meat topped with crunchy crackling.  The pork will shred with a fork, if you desire, but otherwise slice thickly and crack the crackling like you would a tray of cooled toffee.