This is for me the ultimate comfort food, though clearly not something to be eating on a regular basis as part of a balanced diet!! Cauliflower cheese never really did it for me, though I am also very partial to leeks au gratin – which is effectively the same recipe but with blanched leeks instead of macaroni!!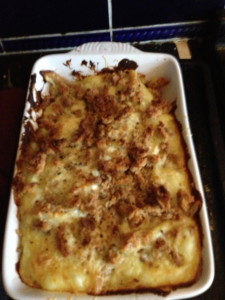 Ingredients:
Proper elbow macaroni – generous handful per person
Butter
Milk
Cornflour
Mustard powder
Cheese (preferably 50% proper mature cheddar – as opposed to supermarket blocks of soap, 50% gruyere)
Black pepper
Finely diced pancetta, smoked bacon or ham (optional)
Shallot, chopped (optional)
Mushrooms or tomato, chopped (optional)
Breadcrumbs
Gently sautee the combination of pancetta, shallot, mushrooms and/or tomato and put on one side.  Boil the pasta in plenty of salted water (with a touch of olive oil added), then drain, put in a warmed ovenproof dish and add a little butter to keep it moist, add the pancetta mixture and season to taste.
Meanwhile, make a roux-based sauce by heating a large knob of butter gently in a non-stick pan until it has melted.  Take off the heat and stir in a generous tablespoon of  cornflour and a teaspoon of mustard powder, stirring with a wooden spoon until it has formed a clump.  Then stir in about half a litre of milk, and keep stirring on the heat.  Gradually add the grated cheese (to taste – I make it quite cheesy but it is possible to add too much!)  Keep stirring until it is a smooth, reasonably thick consistency and pour over the macaroni.
Stir in thoroughly, grate more cheese over the top, black pepper and top with breadcrumbs.  Bake in a reasonably hot oven (I use the base of the top Aga oven) for 20-25 minutes, until well browned.  Serve immediately with a nice salad! 🙂