This is for my friend Elaine, who has not quite perfected the technique of steamed rice.  To be fair my mother always used to boil it in copious quantities of water and then drain, leaving horribly watery, mushy rice.  Yuk!
The thing is that cooking rice properly is not difficult, but like poached eggs and other techniques it seems to inspire fear in some people.  Not quite sure why!  Anyway, there are several ways to cook rice perfectly, and this is mine.  You don't need a rice steamer, and you can keep the rice warm with just a good pan and a slow oven.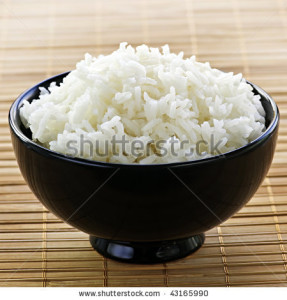 Start with good quality rice; I use aged basmati that I buy in bulk.  I also cook too much – deliberately, since it keeps well in the fridge and makes excellent fried rice, rice salad and a range of other dishes.  Put a quantity in a sieve and rinse well to wash off much of the starch.  Then put the sieve with the rice in a good solid saucepan (ideally one with a close-fitting lid with a small steam hole) and cover with clean, cold water.  The rice will go opaque within 20 minutes or so.
Drain the rice and put back in the saucepan.  Add a pinch of salt and top with just enough boiling water to cover by a few millimetres.  DO NOT flood with water!!
Put on a hot hob and bring back to the boil, then transfer to a very low heat.  Leave simmering for 8 minutes and resist the temptation to take the lid off the saucepan.
Take off the heat and leave for a couple more minutes.  I sometimes stretch some kitchen roll over the top of the saucepan, under the lid, but this is not necessary.
Finally, fluff the rice up with a fork – it will be individual grains, but if there are any clumps break them up – then serve with a sauce of your preference; no draining, nothing else required!  In fact, if you've timed it right, nothing will stick to the bottom of the pan either.
However, if you want to fry it I recommend steaming a few hours before so the rice can cool down first.  If you really want to, you can put some melted butter in the rice but it really isn't necessary or desirable – steamed rice is best on its own.
Pretty much all the rice should come out and not stick to the pan, but if you get a little bit sticking soaking with a bit of hot water and washing up liquid will sort it.
Simples!