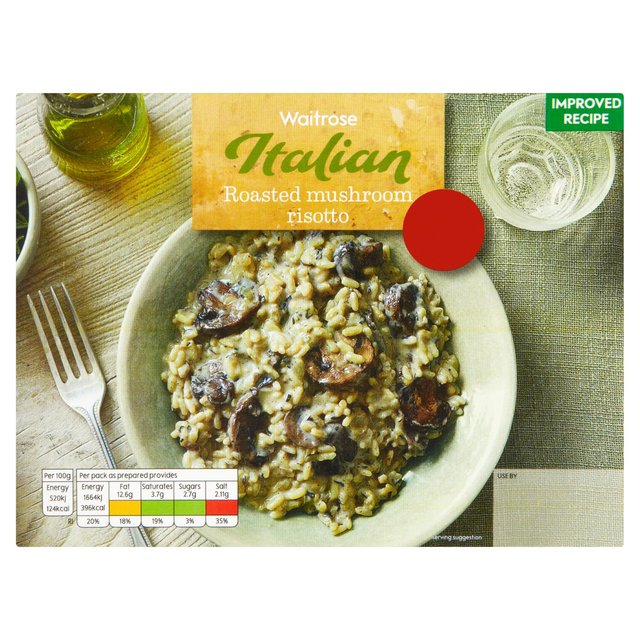 Since my leg is in plaster and doing my own cooking is difficult, I'm having to think the unthinkable.  For a foodie, this includes buying and cooking ready meals.  Yes, I know what you're thinking – "poor dear, how can you possible survive?!"  True, but needs must.  Actually, I have reviewed these products before in the interests of serving my audience, but there was a specific reason for this review.
The main issue is this: I love risotti and I cook a great risotto if you happen to be in the area, but seldom if ever have I found a restaurant or shop that can do it well.  Let's be honest here: most of them are an insult to the name, the key issue being that rice does not stop cooking when you take it off the heat.
Risotto rice, short-grain and often arborio variety, MUST be al dente when you serve or what you are left with, frankly, is mush.  This requires an experienced eye to make sure each grain of rice retains the opaque colour and correct texture, which inherently makes it unsuitable for mass production of any description.
There are other issues too, though these are more matters of taste.  In the case of mushroom risotto, depth of flavour is essential.  It isn't simply a case of roasting a few field mushrooms, chopping them and chucking them into risotto, still les the inclusion of those nasty flavoured powders manufacturers seem so keen on these days (and guess what?  This product contains "porcini powder" – though not much, one suspects – see ingredients below.)
Whatever cultivated and wild mushies you have to hand will work well, but the use of proper dried porcini (not powdered) is, in my experience, critical.  Why?  Because soaking these gives you a strongly flavoured porcini stock that gives layers of flavour you simply can't achieve by any other means.
My last complaint is very personal.  If it were my choice they would include a sachet of top-notch grated parmigiana.  I believe there is some cheese-like substance in the dish, but it's a nice touch to be able to sprinkle your own on the finished risotto.
So to Waitrose mushroom risotto.  Waitrose has a justifiable reputation for quality and being arguably the best producer among British supermarket chains.  If you were going to rely on any, this and M&S would be as good as you can achieve.  Not the same as homemade, but not at all bad.
However, in this case the rice simply had no bite whatsoever.  In other words it can't call itself an authentic risotto since it fails the texture test.  The mushroom flavour is not as intense as I would want it but is probably acceptable to 95% of consumers.  However, without texture it simply isn't good enough.  Were I going to award marks out of 10, something I generally resist, this product would maybe get 4, but should feel gratified that most others will be in the 1-3 bracket, even allowing for the price bracket.
My advice: do it properly or don't do it at all.
---
Ingredients

Water, mushroom (16%), arborio rice, onion, single cream (milk), mature Cheddar cheese (milk), white wine, rapeseed oil, sherry, cornflour, medium fat hard cheese (milk), mushroom concentrate, salt, thyme, garlic purée, porcini mushroom powder, lemon juice, gelling agent pectin, potato maltodextrin, sunflower oil, black pepper