I'm out of touch with what's happening in my beloved city of Manchester, which is what comes of living a relatively short distance from London.  It's been some years since I was at my beloved Cornerhouse, the arts centre where I famously encountered Tarantino many years ago (see here.)  Turns out it closed its existing doors on the corner of Oxford Road, and there is a now new purpose-built arts centre 200 yards down the road, opened in April 2015, located on Tony Wilson Place and Jack Rosenthal Street, since famous Mancunians are now being honoured with street names in the First Street development.
The new centre is called HOME, though whether you would count an airy, curved modern glass palace as home is debatable.  For the architecturally minded, the building is kitted out in what I've heard of as "industrial chic" by a Dutch firm called Mecanoo, but if it is keeping up the great work started by the original Cornerhouse in promoting art through theatre, dance, cinema, photography, painting, sculpture and every other art form you can think of in the North West I am well happy and will return there when there is more time.
On this occasion, my friends took my son and I HOME after a splendid trip to that other North West stronghold of the dramatic arts, the Royal Exchange Theatre, where we saw a mighty King Lear.  After a diet of heavyweight Shakespeare, you need some substantial grub to sustain you.  We started with a drink in the downstairs bar before graduating up to a large but packed restaurant instantly identifiable by a sign suspended from the ceiling that read EMOH.
Dining at HOME is not designed to be elitist, far from it.  This is taken from the HOME website:
We've got three great spaces for food and drink.  The ground floor bar includes an outdoor seating area for all those sunny Manchester days. The first floor restaurant offers a diverse menu including salads, pizzas and brunch options, as well as substantial mains. There's a small bar area on the third floor where you can grab a drink before a film.
Essentially, this is a comfort food restaurant in the American tradition (so I will classify it as "Americas" for these purposes), majoring on brunches, burgers, sandwiches, salads, pizzas, pasta, the odd steak, a few veggie dishes and the obligatory "sides," supplemented by the occasional bistro dish for good measure.
I don't think the building is ideally equipped for dining, but at least the views into the rain over Tony Wilson Place were positively breathtaking.  First word on service, which was both friendly and moderately efficient despite HOME being full to groaning.  The waiter kept us supplied with tap water equipped with ice and fresh mint through the evening, brought the food promptly and earned his tip.
For starters, we ventured into the world of garlic breads, which seems now the default starter when you don't feel hungry enough for a sharing platter, wings, prawns, meatballs or the like.  In this case we sampled one pizza-style and a bowl of garlic dough balls.  Neither seemed to me outrageously garlicky (a shame) and the pizza bread was a tad anaemic, but both were reasonably pleasant without setting the world aflame.
The mains marked a divergent path.  Regular readers will know my son and I are currently on a quest to try every gourmet burger venue in London, so this is right up his street and would be compared to our recent adventure in ground meat sandwiches at Patty & Bun.
The only lady in our party went for a "Spiced Butternut Squash & Spinach Lasagne, Taleggio, mozzarella, rocket & gran moravia salad, garlic bread" (capitalisation as it appears on the menu) – which certainly looked substantial, and from which she left a portion.   She said she enjoyed so I assume it tasted at least competent – though I don't put her down as the complaining sort, even if her dish had been totally inedible.  We Brits simply do not complain enough!
My friend chose "Chargrilled lamb burger, Seeded brioche bun, mayonnaise, tomato-chilli chutney, chips" but without the mayo or salad garnish.  I felt somewhat aggrieved on behalf of the blameless mayo and salad – a naked burger looks wrong to me, but I guess we're all individual in our preferences.
Which reminds me:  I didn't try the lamb burger, but on sight it appeared to share one property with my lad's beef burger, namely being overcooked.  Neither diner was offered the choice of having their meat cooked a succulent medium-rare, which leads me to think they are either pre-cooked or – worse – frozen burgers.  Either way, HOME needs to up its game if it wants to compete with the likes of P&B, Lucky Chip, Byron, Honest Burgers and the like.  However, the chips and chunky salsa served on the side were very decent.
As for me, I took a trip down memory lane to my last visit to NYC and the world famous Katz's Delicatessen.  There I ate a proper New York Reuben sandwich, the secrets of making which are explained here.  HOME's Reuben is described on the menu as: "Reuben sandwich  Salt beef, emmental, sauerkraut, Russian dressing on rye, cornichons, chips."  
The first thing to note is that Katz's use their own homemade pastrami rather than salt (corned) beef – and it goes through a highly onerous process before it gets anywhere near a plate (see here.)  The main difference is that pastrami is gently smoked, though I suspect HOME buys in their otherwise reasonable salt beef.  Anyway, the sauerkraut, sliced emmenthal and lightly toasted rye bread were fine.  The cornichons were gherkins rather than cornichons, but that I can live with that.  Mustard dressing on the bread would have been ideal, but the Russian dressing on the side, while not home-made, was pleasant.
No problem then?  Well diners at Katz's would unquestionably have sent back their HOME Reuben, which brings us to the main difference between British and American dining culture: the Manchester variety since the native NY Reuben is probably three times the size, with typically 10-12oz of meat inserted.  I wonder what would happen in Manchester if portions that size were placed before stuffed diners?!  The burger platter also looked a bit stingy on the plate, in direct contrast to the aforementioned lasagne.  Think I'm joking?  Look at this: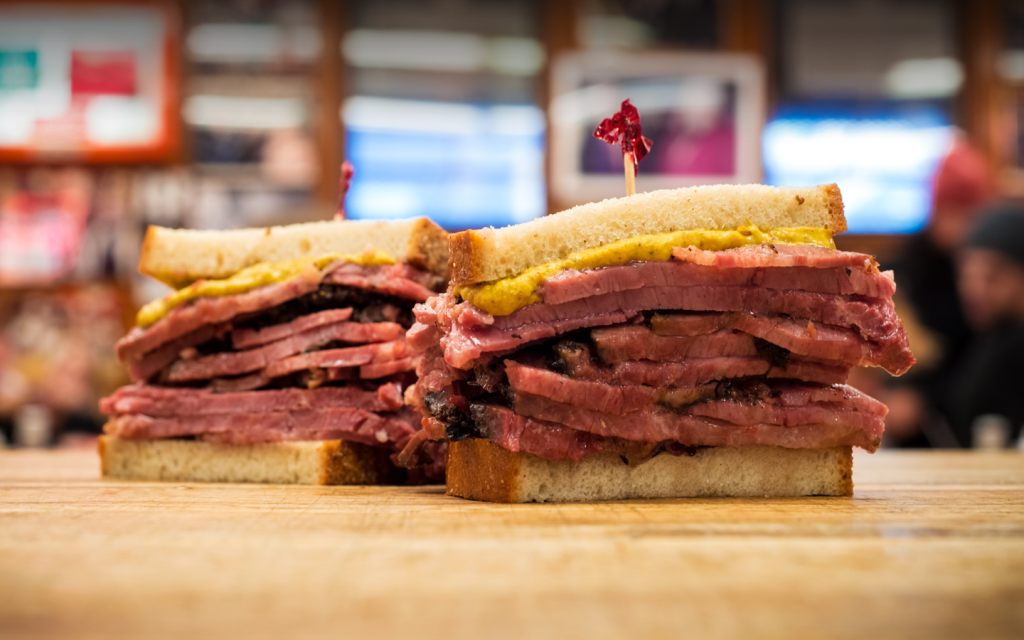 If this looks like I'm being pernickety, bear one thing in mind: at the £9.75 a plate charged, HOME is on a par with the best burger joints and NYC sandwich shops in London, so you would expect top notch attention to detail and the same quality of ingredients to be found anywhere in the UK, even if American portion sizes are deemed obesity on a stick.  Every burger should be cooked to order and served medium-rare by default; the accompaniments should be customisable without special request; and the meat filling should be excellent aged beef… if the restaurant cares with a passion about the food it serves.
That HOME is popular is undeniable, but it looked to my practised eye as if they were not quite living up to the menu.  Lowest common denominator dining with mid-market prices suggests they could easily do better and win plaudits from their punters for so doing.