This could easily turn into a series.  If you happen to be in London and are thirsting for a coffee, a stroll along Holloway Road will reveal more cafes than you can shake a stick at.  More than you'd think viable, to be sure.  Not just your Costa and your Starbucks either, though one Costa does rear its ugly head (I'm down on all chains, including Costa since I discovered they recently opened their 11th outlet in the grand old city of Cheltenham thus squeezing out the independents.)
No, there are lots of unique independent cafes offering subtly differerent menus all the way along, and good luck to them, I say.  The difference is that their product is not chain-homogenised in bulk, but selected and served with pride, which in itself sounds like marketing blurb but which I've seen demonstrated repeatedly.
For our Saturday Brunch, we began at the Vagabond Café, a charmingly downbeat location whose equine logo (see below) attracted my other half.  It is a small shop with stripped brick interiors (de rigueur), an assortment of tables-to-share, a fine display of sandwiches and cakes, plus a food menu that set the pulse racing.  The relaxed feel mirrors a true brasserie, in that you would feel quite comfortable sitting around all day, ordering the occasional food or drink.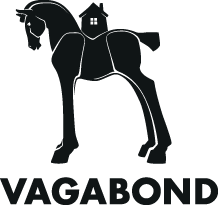 As it was, we read the Saturday papers while a young woman on the same table, presumably a student at the nearby London Metropolitan University, made copious notes from a book while drinking green tea. Certainly better than the soft of coffee shop where people dart in and out without taking time to mellow over their drink.
I chose my customary Black Americano (aka black coffee) and the Vagabond Breakfast, while she chose cappuccino and a cheese omelette (with cheddar rather than the advertised option of blue cheese and bacon) – though all the food served looked attractive.
The coffees came first, mine in a paper cup and hers in a proper ceramic number.  For me it came in a touch too weak, such that an extra shot would have supplied my standard caffeine fix, though to her tastes this was perfect.
The food hit the spot though, being good quality raw materials (tick) cooked freshly (tick) and served with panache.  With my Vagabond plate, the panache came in the form of homemade retried beans, adding a welcome spicy note.  Reclining atop a toasted slice of tasty sourdough alongside a meaty bespoke Franconian sausage (no, I've never heard of it either), two properly thick dry-cured rashers of streaky bacon, a thicker wedge of char-grilled tomato, a slice of black pudding and an assortment of home-sauteed potato cubes.
Also on the plate were two fried eggs, alas not the Burford Browns served at Good Egg but still fine examples, perfectly cooked (ie. runny yolks.)  Some would think £8.95 steep but there are many pricer with no higher quality than served by the Vagabond.  Of quantity there was plenty to satisfy any East End greasy spoon fanatic, too.
Her cheesy omelette avoided the cardinal sin of looking too anaemic, having a seared brown base without losing the gooey middle.  Good slices of tomato and a hidden doorstep of toasted sourdough made up her breakfast, with plate space filled by an unexpected salad garnish.
Having spent an hour or more lounging blissfully in the Vagabond, we wandered slowly back in the direction of home, but with the intention of stopping off for another coffee en route, all the better to lend substance and objectivity to this review, but equally to satisfy the caffeine craving.
The one we chose was The Travel Café, a place of comparable size with equivalent stripped brick walls but a subtly different atmosphere, equipped as it is with cacti, random artefacts, retro black signs with white plastic slide-on letters of a kind I've not seen for many years, low-level lighting and comfy seating.
The staff demonstrated the thesis by being roughly 50% apiece Japanese and South American, but 100% charming with a touch of innocence.  I loved the way our oriental waitress brought each coffee cup over individually from the counter with infinite attention to prevent a spill.  Maybe not the most efficient method but it formed a cabaret of studied human attention, the like of which we rarely see in these automated times.
My coffee came in a proper cup and was this time up to strength; it packed sufficient punch to put a smile on my face.  The feather cast by the barista on top of her cappuccino was decidedly better than its equivalent at the Vagabond (judge for yourself, pictures above), but being a larger dose required her to dilute with glasses of cold water on the side.  Diff'rent strokes for diff'rent folks, though maybe someday we will be asked how strong we like our coffee without having to request an extra shot or a touch more water?  After all, on the continent you are automatically given water with your expresso.
The menu at the Travel Cafe was equipped for light lunches, being sandwiches, toasties, salads, cakes and the like. The clear inference is that breakfasts are available everywhere on the street, so they do not need to compete on that score.
The joy of these cafés is that each is different, each has their strengths, yet each makes for a blissfully relaxing weekend morning.  We will try others in due course and add to this review; make no mistake, Holloway Road is now firmly on my London map for café dining, so I hope they all continue to thrive and attract casual visitors as well as writers, artists, student, academics and anyone else traversing the pavements of north London.