In the interests of balance, I am trying plenty of alternative dining options to keep you entertained.  Today, it happens to be the Tex-Mex equivalent of McDonalds, namely Taco Bell.  To be precise, the Taco Bell fast foot outlet in the food court at Lakeside shopping centre.  Taco Bell, you will well know, is a sizeable American chain that has traded in the UK for some years without ever reaching the dizzy heights of KFC or McDs.  Its history is explained by Wikipedia:
Taco Bell was founded by Glen Bell who first opened a hot dog stand called Bell's Drive-In in San Bernardino, California in 1946 when he was 23 years old. Six years later, he sold the stand and opened a new one two years later, this time selling tacos under the name of Taco-Tia. Over the next few years Bell owned and operated a number of restaurants in southern California including four called El Taco. Bell sold the El Tacos to his partner and built the first Taco Bell in Downey in 1962. In 1962, he sold Taco-Tia. Kermit Becky, a former Los Angeles police officer, bought the first Taco Bell franchise from Glen Bell in 1964, and located it in Torrance. The company grew rapidly, and by 1967, the 100th restaurant opened at 400 South Brookhurst in Anaheim. In 1970, Taco Bell went public with 325 restaurants. In 1978, PepsiCo purchased Taco Bell from Glen Bell.

The United Kingdom was the first European country with a Taco Bell. In 1986, a location was opened in London on Coventry Street (between Leicester Square and Piccadilly Circus) followed by a second location in Earls Court near the Earl's Court tube station. One other store opened in Uxbridge but all closed in the mid-1990s. In 1994, the university food provider Compass announced plans to open stores in its university and college sites. However, only one store was opened in Birmingham University, no other stores were opened, and the Birmingham site is now closed. There remained only Taco Bell sites in the UK in operation at the Strategic Air Command and United States Air Force bases at RAF Mildenhall and RAF Lakenheath; commensurate with existing security controls, access is restricted to relevant service personnel.


Yum! Brands announced that it is considering reopening Taco Bell locations in the United Kingdom as part of a large planned expansion into Europe, with trial outlets opening first in Spain in early 2009. Yum! is taking advantage of the recent recession which led to increasing sales at other fast food outlets; it also said that there is now a greater awareness of Mexican food in the UK and that it can be successful with improved menu offerings and marketing.The first new store opened at the Lakeside Shopping Centre on June 28, 2010. Taco Bell opened a second store in Basildon on November 29, 2010 and the third in the Manchester Arndale Food Court on November 7, 2011.

On March 1, 2013, it was announced that horse meat had been found in Taco Bell's beef in the UK, hampering the chain's growth in that already-stubborn market.
A pastiche Mexican food, a caricature of what Mexicans eat, has long been commoditised by the fast food industry, and indeed restaurants like Chimichanga. On home turf it probably sells well to a country where hispanic influence is common, but strangely the same doesn't see to apply here, in spite of the modern British habit of embracing multiply fragmented ethnic dining choices.  But the question you will be asking yourself is whether, in spite of the age old junk food marketing and operational service techniques, it is any good?
Well I duly queued at the remarkably small outlet frontage and ordered a Volcano Burrito or some such name, described thus and doubtless precisely the same the world over.  We also know its precise nutritional value (see here), though sold in "meal" format with chilli-coated fries.  They would also love you to drink the usual array of Pepsi soft fizzy drinks, though I chose Tropicana orange juice (now another Pepsi product, of course.)
The burrito itself holds few if any surprises, though it never fails to astonish me how they get away with photographing the products so close to they look ten times bigger than the meal placed in front of you.  Now as anyone knows, burritos are essentially wraps with a warm spicy mulch of a filling, in this case spiced meat with a dose of sour cream and cheese.  It is nothing like as grandiose as the marketing blurb would have you believe:
A warm, soft flour tortilla that's packed with a double portion* of seasoned beef, premium Latin rice, crunchy red tortilla strips, real cheddar cheese, cool reduced-fat sour cream and cheesy molten hot lava sauce.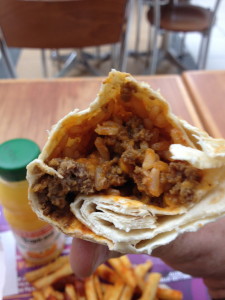 Following their horsemeat episode, one hopes that genuine British beef has been adopted, as stated on their website:
Food quality is our highest priority, and when the news of mislabelled beef products surfaced we voluntarily carried out tests on the ground beef supplied to our three Taco Bell restaurants in the UK.

Based on that testing, we were very disappointed to learn that some batches of ground beef supplied to us from one supplier in Europe tested positive for horsemeat.

We immediately withdrew ground beef from sale in our restaurants, discontinued purchase of that meat, and contacted the Food Standards Agency with this information.

We would like to apologise to all of our customers, and we can reassure you that we are working hard to ensure that every precaution is being undertaken to guarantee that we are only supplied with products that meet the high standards we demand.
The fries are dry, though enlivened by sachets of a chilli-spiced condiment tasting vaguely like a warmed-up BBQ sauce.  Total cost of the meal was £4.59, and left me shrugging my shoulders.  It was OK, possibly better than the equivalent fast food burger but nothing special.  Certainly not the sort of meal to leave me awed and rushing back there for more.  Probably a snack to help pass the day, something you can say of any fast food.
But then the thing is Mexican food is much the better for long, slow cooking at home, not in a fast food eatery!  So far as I'm concerned, the sooner we cast aside caricatures and go for the real deal, the better.