The food at motorway service stations, notably the fast food outlets that populate them, were once lambasted by less a luminary than the late and legendary Egon Ronay.  There are sites that still monitor the food and every aspect of service provided by these bodies, such as Motorway Services Online, which summarises Newport Pagnall on the M1 thus:
One of the oldest services around, Newport Pagnell has done a lot with the little space it has. There isn't a lot of space, especially for southbound lorries, but the hotel has a very 1950s look to it and has received thumbs up for this.

In May 2012, Visit England rated the services as 3 stars. In August 2011, they gave the northbound services as 2 stars and the southbound side 3 stars.

In 2008 the services won a five star loo award.  In 2007, Newport Pagnell northbound won a five star loo award. The southbound side won a four star one.  In 2006, both sides of Newport Pagnell won a four star loo award.  Also in 2006, Holiday Which? rated the services at 2/5.

It was here in 2000 that Egon Ronay made the infamous quote "it's called 'all-day' because it tastes as if it had been hanging around all day".
Hardly a ringing endorsement, though it is worth spending a moment to consider the licence under which such services operate, which is for the most part highly regulated.  They are obliged to provide clean and plentiful toilets free of charge, enabling any motorway passenger to get to the loo without let or hindrance.  They are obliged to provide free parking (generally 2 hours), food and drink, fuel, though for obvious reasons alcoholic beverages are restricted to those staying overnight at the hotels many service stations operate.  They also tend to provide shops selling all manner of stuff, gaming machines and much more as new and ever more inventive ways to part the passing driver from his or her cash are devised.  From their perspective, it costs a premium to hire staff to work at these locations, many of which occupy remote locations accessible only via motorway.
Against that backdrop, cafeteria services are about providing basic meals that meet a need, encourage greater spend, make a profit and a contribution towards the fixed costs for providing parking and toilet facilities.  As such, the food and fuel have never been cheap, though the question has always been about the competence with which the food has been prepared.  Not hard to see why they often prefer the "food court" approach to appeal to the greatest proportion of footfall customers, often with fast food outlets like McDonalds and KFC, coffee shops like Costa and Starbucks, sandwich shops and suchlike, though many still provide their own cafeteria and occasionally waitress service restaurant too. In addition, concession shops are now operating on the premises to fill in the gaps and optimise earnings from each square foot.
The problem is that most were tarred for many years with the same brush as greasy spoon cafés, where by comparison service stations on the continent had high standards of cleanliness, food quality and variety – in fact they were superior in almost every way.
Since then, UK franchised services on motorways have gradually pulled themselves up by the bootstraps: the cleanliness and state of the loos has improved; the design of the facilities is more welcoming and attractive; staff are better trained.  They may not achieve universal standards of satisfaction, but they are much better than ever they used to be in my youth.
That said, many are still light years behind the service you get in the States or Europe.  They are self-service, involving queues which often stretch back at counters with minimal staffing.  You get one free sachet of ketchup, then pay 20p for the next.  You have to pay for each over-priced coffee, with no free refills.  You are obliged to stack your plates on the tray and put them in the receptacle provided.  In short, service stations are more like canteen food, unless you choose to step smartly across the threshold to the waitress service cafés.  Then there are the fast food outlets, which are also self-service.  Plus ça change, plus c'est la même chose…
But would you choose to eat in these temples of the lowest common gastronomic denominator?  In the interests of research, since I had an hour or two to spare, I undertook to sample breakfast at the Welcome Break Newport Pagnall services, so you, dear reader, don't have to!
Newport Pagnall was one of the original stations, originally operated by the Forte empire.  As the photographs above reveal, it has changed much since the 60s thanks to a succession of makeovers.  It looks the part, though the design is not without flaws.
The biggest of these I found when sitting down to breakfast at an unoccupied table near the back of the open plan seating area, broken up by waves of curved room dividers.  As I sat down it became quite evident that there was a breeze, nay a strong gust of wind from the external glass doors at either end of the building, neither of which was protected by use of double doors.  My next move was to a different table, sandwiched closely between two others, but thankfully protected from a howling gale.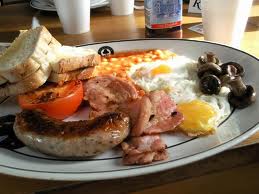 Arriving at the counter I found one quietly-spoken member of staff who asked me what I would like.  I wish I had taken a photograph of the breakfast bill of fare, since the options seemed largely variants of the same thing.  Yes, you could buy cereals and pastries, but in hot food the menu seemed focused on the assumption of the English breakfast:  the full monte in two different sizes (the pic above seems to show the bigger of the two), but in the end I went for the "Cumberland" breakfast for £6.99 (and the .99 still irritates the hell out of me everywhere I see it – do they think we are stupid?!), based on the following components (all except the egg pre-cooked):
A Cumberland-style curled sausage

A thick wedge of black pudding
Two halves of an oven cooked tomato
One "griddled" fried egg
A standard from-the-freezer-to-the-frier hash brown
I mention this because the chap on the breakfast counter did not seem to know himself.  He looked long and hard at the menu above his head before serving out the individual portions.  Maybe nobody had ordered this option before?  Anyway, it seemed to me curiously imbalanced, and would certainly have included a round of toast on which to sit the egg, had I been designing it. And maybe offering bacon as an alternative to black pudding?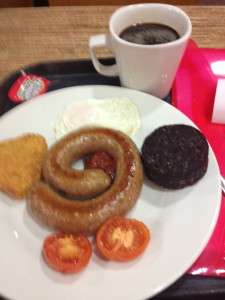 I moved on to the next counter for coffee, which seemed pricy for what proved a very average cup.  In total it cost me £9.44 for what would in a cafe elsewhere but on the motorway cost £6 or so.  I also noticed the "free" ketchup option (in 0ne of those horrible squeeze portions rather than from the bottle or even the dispenser and little pots like McDonalds, but that seems to be the norm nowadays.)  I went to the station from where cutlery, salt, pepper and other condiments are dispensed, but nowhere was the ketchup to be seen.  Back to the counter, and I asked the lady where it could be obtained, asking for two.  Reluctantly she dug under the counter and provided ONE squeezy of ketchup.
Having finally sat down and negotiated the ketchup to fall upon the plate rather than my tie, I took courage in both hands and ate the breakfast.  First disappointment came with the sausage.  Regular readers will know I have strong views on the quality of sausages, and how there is no excuse whatever for serving inferior varieties.  The disappointment in cutting into what purported to be and roughly resembled a "Cumberland sausage" (ie. coarsely-chopped pork, very meaty texture, good spicing including black pepper), only to find it was the same dull rusk-ridden pap as the cheapest of cheap bangers can only be described as crushing.  A superior sausage does not cost much more but the difference on the tastebuds and the likelihood of repeat business at breakfast time would be immense!
The black pudding was certainly a thick slice but very dry and dusty.  Not what I would expect from the best Lancashire specimens, for example.  The hash brown was box standard hash brown, and the tomato was lacking in substance.  The same might also be said of the egg, which was cooked competently but clearly did not come from a superior bird.  It seemed to have very little to it, looked dull and lifeless, and tasted of precisely nothing.  How sad!
The bottom line from breakfast at the Welcome Break is that it is functional, does what it says on the tin, but does anything but satisfy how a breakfast should satisfy.  I'd have paid a pound more if it meant getting proper Cumberland, a slice of toast and a superior egg, but no such option exists.  Maybe more genuine choice rather than rearrangements of the same old stuff is what we really need?  It would not take a lot of effort to turn something that is pretty so-so into a very good provider of quality meals, though you get the impression that regulation by cost to the tune of fractions of a penny saved therefore cooking for the lowest common denominator suits Welcome Break nicely.  A shame.
As it is, I'd have little hesitation in saying my experience of service stations on the continent still stands true:  they aren't cheap but the quality is a clear leap ahead of Welcome Break and other UK providers.  In the meantime I may stop to go to the loo but I won't be rushing for meals in any UK service stations unless I am desperate.