Readers will recall my lament at the demise of the traditional Harry Ramsden marker for quality fish and chips at the hands of the hospitality industry conglomerates (see here for the full exposé.)  Of franchised restaurants there are a number, close to the coast for the most part, but also a fair sprinkling of fast food express joints, emulating the McDonalds fast food experience – complete with food direct from freezer to frier, the very antithesis of the original Harry Ramsden's experience.
As well as franchise opportunities, the HR website is big on heritage, though now provides cod as well as the haddock in which the real Harry specialised.  Mention too of the batter ("deliciously light, golden and crispy… and that's all we can tell you. After all, the recipe remains a closely guarded secret!" – though frankly batter is batter and does not require any secrets, closely guarded or otherwise) but none of the frying medium, which in Harry's day was only top quality beef dripping.  This, I suspect, was industrial scale cheapo frying oil.  A pity, since dripping does make a huge difference to the finished article.
The menu also now includes a raft of dishes that were certainly not part of the Ramsden tradition, "Harry's Pie Shop" being the most obvious (and the only one actually made on the premises, presumably from pre-manufactured fillings) though also extending to burgers, ribs, veggie lasagne, chicken caesar, chicken wings, Greek salad, salt cod croquettes, and even – wait for it – olives!  Harry would never have sold olives in a million years, had he still been in charge. Clearly heritage goes only so far before reinvention takes over.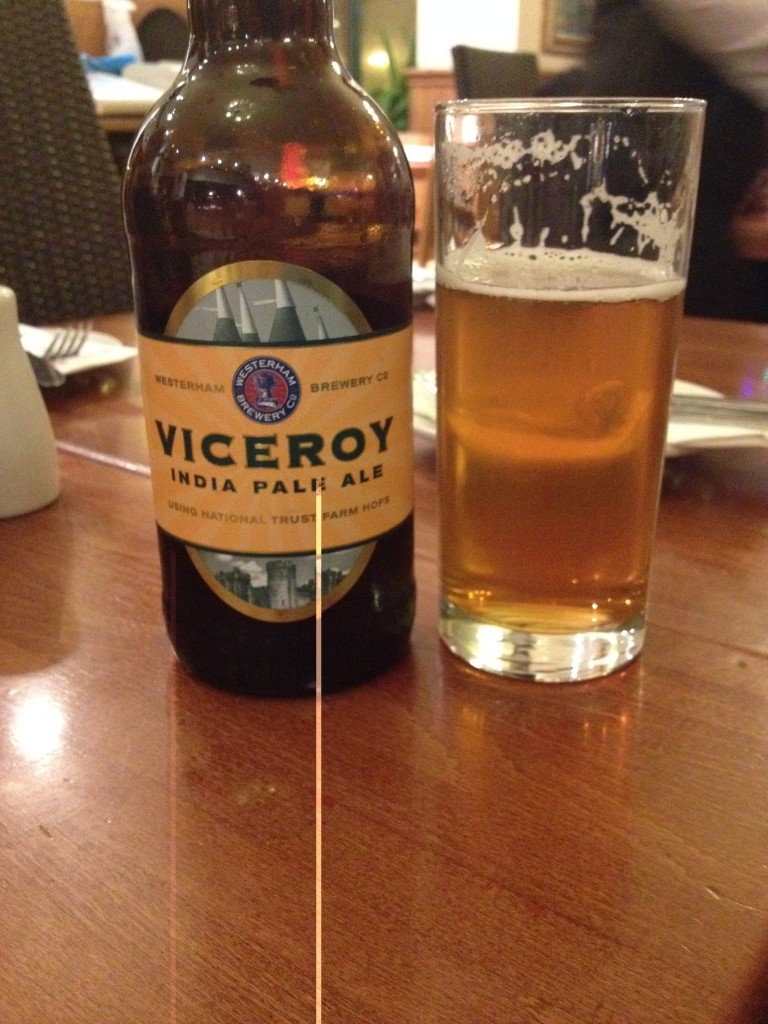 The restaurant I visited on 30 December was pretty empty, with staff aplenty ready to pounce.  No doubt it will be doing a roaring trade on New Year's Eve, but I was probably better off for being able to hear myself think.  Unlike the chandeliers of the original Harry Ramsden's palace in Guiseley, now long since shut down by the current owners, the decor is fairly plain and dull.  Drinks are pricey though there are some classy beers available at a price.  My Viceroy IPA was pretty darn good, but was it worth £3.95 for a half litre bottle?  Certainly not!
The fish is available as "standard" (for which read "small") and "large" ("standard" – did not come close to filling the plate) sizes, plus the mega Harry's Challenge size.  Each dish comes with a side order of frozen peas, mushy peas or baked beans, plus a small pot of tartar sauce.  The mushy peas came in the same size pot.  I know they are often referred to as "Lancashire caviar", though this should not be an excuse to serve peas in the same size portions as you would caviar.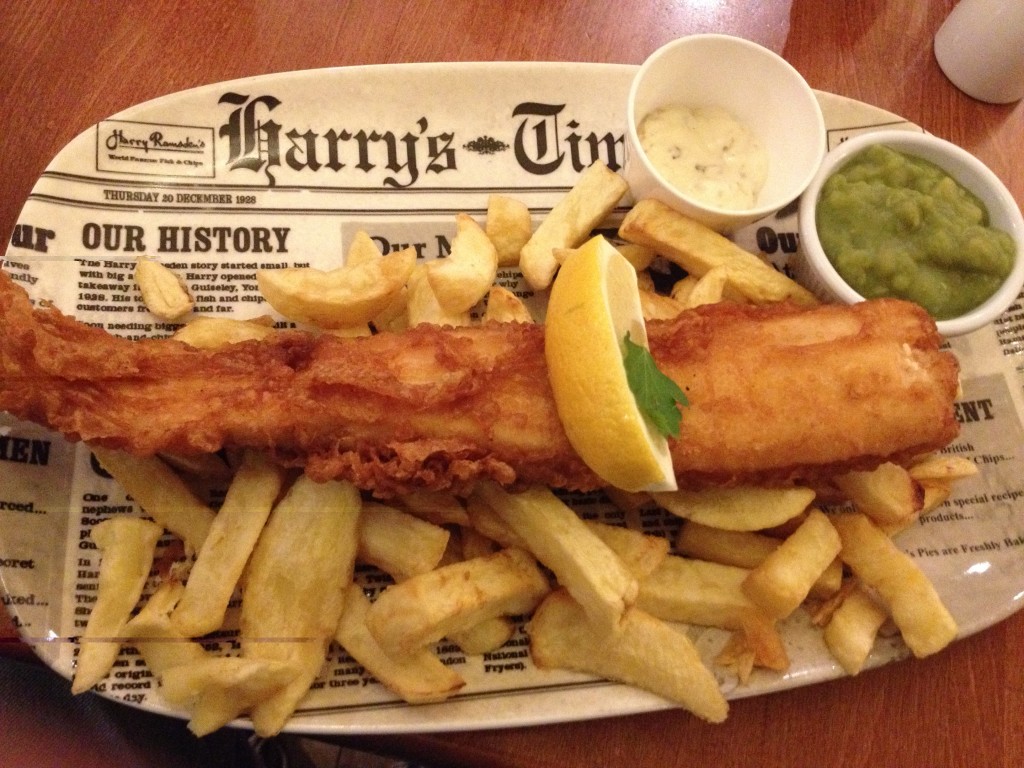 My large haddock was good quality, and the batter better for using the Japanese tempura technique of scattering globs of batter, producing a crispier end product.  It was far and away the best part of the meal, though I do wonder whether the chain still employ's Harry's standard of fresh fish direct from market; quite probably not.  The chips were sadly not twice-fried, looked anaemically under cooked and veered towards the soggy, which is a shame for any chip shop aspiring to offer a quality product, and frankly there is no excuse for lame chips nowadays.
So, tell the truth, Harry Ramsdens now would certainly not meet the standards expected of the maestro himself.  Harry died in 1963, but had he been alive he would undoubtedly have been kicking the arses of the people who allowed his high standards to slip and for the chain in his name to have been sold in the name of excess profit.  This is American-style brand name chain food, far from being the top of the fish & chip food chain, but if that's what you want, that's what you get.