Warwick is unquestionably a beautiful old town, one possessed of many striking examples of aged architecture and many pubs and restaurants too.  It was on a cold February evening that I was trying to select from among these restaurants to eat, the sort of decision that should on the face of it be dead simple but in practice proves a tad tricky. What style of food did I want?  Indian subcontinent, Chinese, Thai?  Maybe Italian, Lebanese, or Turkish? Possibly pubgrub, since there are a fair number of that look very decent and warrant further investigation while I am working in that neck of the woods.  But it was only when I saw the Pot and Fin that my mind was made up, aided by the glorious and unmistakable smell of beef dripping, the traditional medium for cooking finest fish and chips.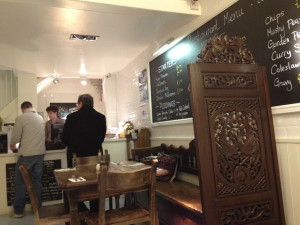 While the beef dripping was an attraction, and indeed the fact that the restaurant cooks every meal to order, that would be doing Pot and Fin a great disservice.  To begin with, it looks nothing remotely like any fish and chip shop you have ever seen before: no seething cauldrons of boiling fat, only a counter laden with desserts, a few characterful antique tables and chairs, a fridge containing drinks, a blackboard menu, clean white walls and two gentlemen serving.  All the cooking is done upstairs, where more seating is also available.  It also sounds very different to your average chip restaurant, given that good and highly enticing soft jazz was playing.  The eccentricity of Pot and Fin alone makes this a place worthy of a visit, but combined with a commitment to fresh cooking and great quality made it an irresistible choice.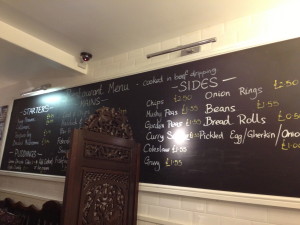 This being an unlicensed establishment, the drinks were soft but none the worse for that.  I tried a generous glass of local apple juice and found it better than the vast majority of commercial brands.  Allowing time to wait clearly works – it was probably only 7 or 8 minutes before my plate of food was transported downstairs by hand (the dumb waiter on the wall opposite the menu was evidently not working) and placed before me by a pleasant young chap, but that gap heightened my sense of anticipation for the food.  Forget instant gratification, this is a great way to get your juices flowing!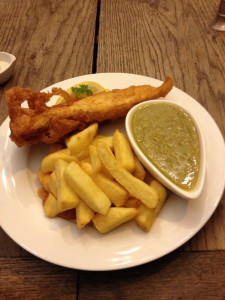 At first sight, the portion of fish and chips looked on the small side, though this was misleading.  The chunk of haddock was quite thick, beautifully white, perfectly enveloped in a crisp and tasty batter, and certainly beyond the remotest criticism.  Not the sort of food to get into Michelin but of its genre a masterpiece.  The chips were well (and twice) cooked though personally I would have preferred them a little crispier.  Then again, I have friends who prefer chips in the classic British chippie style, who would have been more than amply pleased with this example.  Bearing in mind my northern roots, the mushy peas were not the best I've had, but were quite blameless and not without flavour. They looked worse than they tasted, but certainly did not justify the comment of one friend who asked if that was curry sauce (also on the menu!)
Marking up for proper vinegar aside, I was delighted also to be asked if I wanted some tartare sauce (I did.)  I was asked beforehand if I wanted a starter, and afterwards if I could manage a dessert, but polite refusal was taken in good grace.  In fact, I can't remember when I have been served in a chippy with more sincerity, politeness or old-fashioned charm.  Would that all such establishments took such good care of their customers.  I will undoubtedly return.
On my way back to the hospital quarters, I stopped at the Wild Boar Inn for a pint of their very own home-brewed Wild Boar dark bitter, and sat in a corner overlooking the cellar where it was made.  An excellent pint in a warm, inviting pub that cares about the character of its real ales.  A splendid choice and another point of return in the coming weeks.
In short, Warwick is recommended – and this is only the start of my gastronomic adventures there!