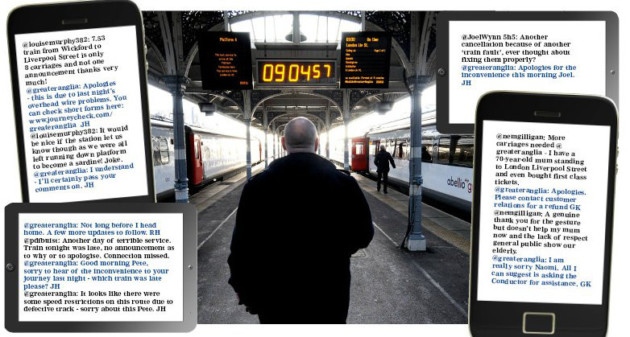 Letter of complaint written to the MD of Abellio UK, copied to my MP, the Transport Secretary and the Passenger Watchdog:
Dear Mr Booth

Abellio runs a monopoly franchise on the Greater Anglia line, which means customers who need to commute from, in my case Kelvedon to London, have no choice other than to find some other mode of transport.  As a monopoly provider you are regulated and have an onus to ensure the needs of customers are met and, where appropriate, compensated where poor service is offered.  Late-running services and breakdowns occur and are dealt with in the rules, but from what I can see there is no legal responsibility on you to deliver effective and efficient customer service.  Quite the reverse, as my story will reveal – I get the impression that your processes are manual and should have died out in the 60s; your customer communication is bureaucratic and utterly lamentable.  More to the point, sorting out a season ticket to start tomorrow morning cost me £xxx in client fees, so I expect to be compensated in full for your company's disgraceful servicve.

I purchased a season ticket on the Abellio website (note that it only said Abellio – no mention of third party involvement) on Saturday morning, total cost £1,588.80.  You took my money immediately and sent me an order confirmation.  The email said, and I quote:  "You will receive an email with your collection reference once your ticket has been issued."  To my mind any purchase from any website run by an ethical company should be fully automated and fulfilled within the hour, so my immediate assumption was that something had gone wrong when I did not receive it.  After all, if you have taken my money why should there be any delay in issuing the ticket?  The web operates 24×7 and all services offered in 2015 should be fully automated!

So I started a lengthy email exchange with a gentleman in your Indian Customer Centre, who sent apologies but said there was nothing he could do about it since the team concerned only worked Monday to Friday.  I repeatedly pointed out that this was not good enough and that I needed to collect the ticket on Sunday latest because I was booked in to do some work on Monday, but was left with a clear impression that nobody cared and were certainly not prepared to do anything about it, let alone take ownership and be an advocate within the company on my behalf.

By this morning I had from them an 0345 telephone number to call, so was left with no choice but to tell my client I could not drive to see them because I had to sort out the tickets.  I rang the number, selected the option for tickets purchased via the Greater Anglia website, and was put through to a young lady who apologised told me she could not do anything about it.  After some discussion she put me through to a call-centre in Colchester, where I spoke to a chap by the name of James, who also told me that there was nothing he could do about it and that I should ring a telephone number in Edinburgh.

By this time I was seething at the attitude of a company that is quite happy to take large amounts of money for a service that has not improved one jot in all the while you have operated the line, but who could not answer a simple question, could not take ownership to deal with it there and then, and gave every impression of sticking to scripts and not giving a tuppenny damn about the customer.  I was on the phone to James for 38 minutes before he acknowledged that the ticketing service was operated not by Abellio but by The Trainline – but could not answer why The Trainline could not provide a help number on your website or even acknowledge that they were operating the service.  As I pointed out to James, the website says Abellio, so Abellio should take responsibiity.  If you are prepared to take an order and accept money on a Saturday, then you should ensure that tickets are available same day.

It took a long while but eventually he agreed to abandon his script and call the Trainline, and to call me back to confirm that the problem was sorted.  I should not have had to goad him – it should be the first thing you offer once it is acknowledged that Abellio's services have not come up to scratch.

About 30 minutes later I was called by a gentleman called Graham from The Trainline, who was able to provide the collection reference.  He told me that no season ticket is issued without manual intervention, and that the team concerned operates only Monday to Friday, 9-5.  In which case, I asked, why are you offering a 24 hour web-based service that does not mention that no season ticket can be issued without manual intervention?  Why can this simple process not be automated for the benefit of the customer?  His answer:  you'll have to take that up with Abellio.  Back to square one!

So I am taking it up with Abellio, and hope you will take full ownership and make improvements to this abysmal and antiquated service without delay, and ensure that your customer service agents are fully equipped to answer any problem at any time and to communicate effectively so the customer fully understands the situation.  I will be copying this letter to the Independent Passenger Watchdog, to my MP and to the Minister for Transport, since it demonstrates to me that rail franchise companies are not fit for purpose and cannot be trusted to operate customer service to the standards expected in 2015.  In fact this experience tells me I should advise my friends and family not to use Abellio since it cares more about profits and paying dividends to its shareholders, in offering base minimum services and regarding customers as an inconvenience – once we have paid your extortionate charges.

Compensation for my lost earnings, not to mention the time and inconvenience suffered is the least you can offer.  My challenge to you is to prove otherwise and do something about it so no other customer suffers for your company's inefficiency and inability to communicate!

Yours,

Andy Millward

PS. The Trainline never processes orders until the day before the ticket starts – but you don't say so on the website. Neither are they open on weekends so it's impossible to order a ticket on the weekend for travel on Monday!!