The Great Budget Challenge has now started, and will run for the entire month of September 2012!!!  Don't forget you can still sponsor me!!!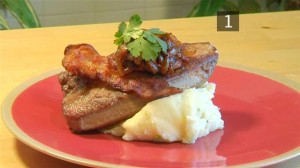 Day 1:  Yesterday I went shopping and spent £30.45 in Sainsburys.  Even with an eye to bargains in the supermarket, it's tricky to find the best balance of what to buy, though I can see more visits to the pound shop and Aldi in Chelmsford in the near future, along with farm shops and markets for my greengrocery.
Especially need a cooking apple for my braised red cabbage (to go with the lightly sautéed liver (£1.10 a pack), a dish I did not eat for many years after having a version cooked by my mother, more akin to shoe leather than delicately pan-fried liver) and an aubergine, because aubergines are wonderful and versatile!  Sadly, there were no lambs kidneys in either Tesco or Asda, a shame given how wonderful devilled kidneys can be!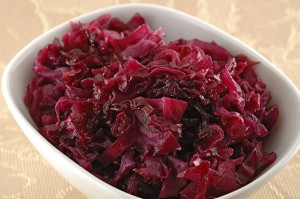 On the whole, this was a well-balanced selection, with the only luxuries in the form of a 150g Alta Rica coffee refill pack (need to ration this out so it lasts for the month) and two packs of mature cheddar on a BOGOF deal.  Quite pleased with a few of the remaindered items (lunch noodle soup 19p, bread mix 24p.)  Admittedly the cats will have to get used to Sainsburys pouches, and if things get really tight then canned food too!  Still wondering what to do about litter, since the one they will use costs £2.95 a bag.  Hmmmm….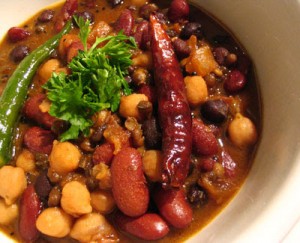 I did a friend a favour today (car broken down, a bit of running around) and will be repaid in lasagne tonight, so cooking will begin tomorrow.  Maybe soak some beans and lentils and do a veggie curry (albeit with the home-made chicken stock I prepared in advance), to be served with rice, mango chutney and whatever else I can find.  Casseroles in general seem to be a great way of eking ingredients out further, so expect batches to be cooked and some portions to end up in the freezer for future consumption.
Day 2: Remains of Friday's takeaway curry for breakfast with toast.  You'd be surprised how well that works – curry spices preserve dishes superbly!  Beans on to soak for later… wondering whether a small supplement from the freezer might be permissable?
Bought a bag of cooking apples and one aubergine today – total cost a whopping £2.65.  Feeling dangerously extravagant about that, not least because I know there are some household items I'll also have to buy – disinfectant for one.
My tendency in shopping has always been never to let anything go out of stock.  Never will I get down to my last loo roll, for example – another pack will always be there, ready and waiting!  Given the nature of the budget challenge, however, I might have to run some supplies down and wait until an item is actually needed before I buy one.  However, I refuse point blank to use newspaper in lieu of bog roll.  A gentleman does have standards, though those standards might be reduced to what can be found in Aldi in Chelmsford, or the pound shop in Colchester rather than my usual choice of products, fit for royalty!
Day 3: This is the day for serving liver, mash and red cabbage, the latter now sitting in an ice cream pot in my fridge.  In the meantime, toast from home-made bread with marmite (yummy!) and maybe something from the store cupboard for lunch.  I have a few items tucked away for these purposes, but when they're gone, they're gone.  Will be living off my wits soon!
Later: OK, this is a bit embarrassing. I cooked the liver to perfection, it was tender and probably delicious in the hands of a liver lover… but to be honest it was not to my taste.  Even the cats looked at it a bit dubiously.  Now what on earth am I going to do with half a pack of liver?
Day 4: Right, a quick trawl of the fridge reveals some leftover roast lamb, so I will have that with the remaining bean stew and a bit of extra curry spice.  But that is not the problem.  The problem is that yesterday I saw a one-off offer via Orange to get two tickets for a Premier League footie game, and bought them to take Adam.  Strictly speaking, they should be funded from within the budget, but £30 for those would be impossible, and the train fare too since it would cost the same.  I know it's bending the rules but I have to exclude that – or drive, which wouldn't be easy either.  Feel bad now, but it would have been a shame not to give him that treat.  Otherwise, I will stick entirely with the principles of the challenge :(.
Lunch today was an omelette made from the glorious free range eggs up the road from here.  I thoroughly recommend them!!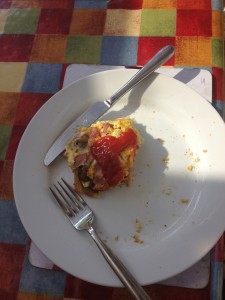 Day 5: Was out relatively early for a meeting today, and by mid-afternoon had not eaten a sausage (or anything else, come to that) and was hungry.  No, not hungry, HUNGRY!
Went to Asda in search of bargains and came away £5.02 lighter but with quite a bit of useful stuff, including a huge bag of carrots – some of which may be used to make carrot and herb soup with the chicken stock in my fridge – and boned rolled lamb breast reduced to £1.30.  The latter is a blast from the past, a frugal dish my mother used to cook with the help of a cheap pack of stuffing.  Having an Aga helps, since long slow cooking in the slow oven will render the fat and leave a crisp, tasty and succulent piece of meat.  In theory.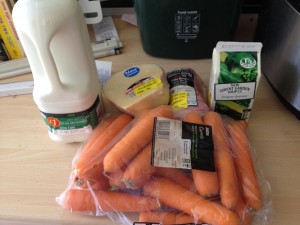 Got home and scoured the cupboards.  In the end, the only option was beans on toast, though I did tart the beans up with a few saucy extras from the store cupboard.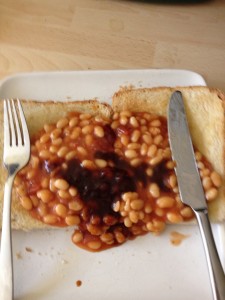 As for tonight, I found a pack of bratwurst in the fridge.  With some root veg mash and more of the red cabbage made the other day, they will make for a cheap, robust and flavoursome dinner :).
Day 6: Pasta night.  The pasta is the fresh, stuffed variety, purchased in the first shop.  The sauce to go with it is home grown, made from bottled peppers, hot garlic sauce, sweet vinegar, tomato, parmesan, pepper and other flavourings.
Day 8:  OK, so I didn't post yesterday – but then the food was not worth writing about.  Collected the kids and gave Adam and me pizza and oven chips, while Lindsey ate a pasta dish bought for about 59p in Asda.  Today will be better food – the breast of lamb, stuffed and rolled :))
Post-shopping: Must admit to being slightly surprised at only spending £18.70, and that included The Guardian Saturday edition and 8 cans of RC (arsey?) cola for Adam.  Even got some slow-cooked stewing beef, and mince to make a batch of bolognaise (not the horrible fatty variety either!)
After the initial shop, heavy with expensive goods like coffee, cheese, cat food and pulses, this seemed a much easier process.  Some of the bargains were worth reporting too: a pack of Breakaway biscuits reduced, for no obvious reason, from £1.55 to 25p?!  Creamy pepper pesto at half price will go nicely with next week's pasta dish, too.
As for the stuffed breast of lamb, it was delightful – though clearly fattier than some cuts. Served with an excellent port and redcurrant sauce it worked pretty well, though I wouldn't choose to cook it all the time!
Day 9: Right, kids gone home and I've made a big pot of bolognaise sauce, which will serve for several meals, particularly when I mix some of it with red kidney beans and chilli sauce to make a chilli.  Very versatile and very tasty every day food, whatever anyone says – not really ragu as the Italians would serve it, but for the purposes of the budget challenge economically viable!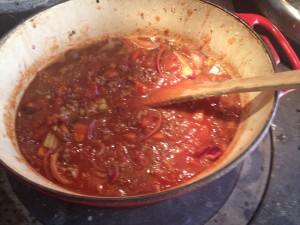 Day 10: Right, soaked and cooked the kidney beans to add to one portion of bolognaise, garlic, chilli sauce and a few more flavourings. Tonight's delightful surprise: chilli with cous cous.  Granted, not a classic combination – I should be using the cous cous to go with a tagine, but tasty nonetheless.  Filled an 'ole, as they say!  Still plenty more chilli left, too.  My fridge and freezer are both becoming overrun by pots of this, that and the other!
Day 11: Now, what to do with the stewing steak I bought?  If I was being boring, straightforward braised beef or an old-fashioned stew, but otherwise a more exotic casserole.  Could even cook it with the remaining liver – not sure if there are any recipes recommending that combination!!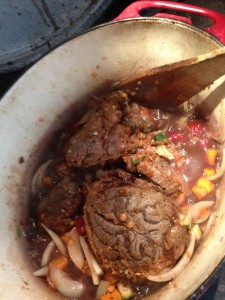 In the end it was a subtly spiced casserole, which still contrived to deliver a small kick to let me know it was there.  Very tasty too, and still plenty more left over.  It was served with root veg fritters and yet more braised red cabbage, since I've cooked loads of it.  Luckily, braised red cabbage keeps extremely well; unluckily, I'm running out of pots now!
Day 12: Veggie day, with two different curries.  One contained cannellini beans, brassicas and assorted other veg in a home-made rogan josh sauce; the other included aubergine, green peppercorns, coconut and mango chutney.  With a naan bread from the freezer, they worked a treat for not much dosh, and were ready when I finally got back after a trek to Stansted to meet my accountant, fun life that I lead.  It was followed by baked apple, stuffed with sultanas, nuts and vanilla sugar soaked in Tia Maria, which is also cheap as chips and dead delicious.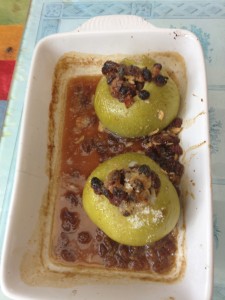 The fridge is now packed to the rafters and the only tupperware pots are so huge they would not fit in.  Consequently, the remains of the veg curries, preserved as they were in spices, sat in their cast iron pots on my work surface overnight.
Day 13: Went shopping again, but this time it was much more difficult.  Among the goods required were catty stuff: litter and food.  Spent £8.25 on them alone, from a total of £20.99, but that doesn't tell the whole story.
I went around putting in items that were good value, including a few value packs (eg. 4 x tins of tomatoes.)  Then looked at the stuff again and went around putting things back again, or substituting cheaper stuff based on smaller quantities.  Rule no 1 of budget shopping: regardless of what the marketing spiel and promotions may be, just because something is on offer does NOT mean you have to buy it!!  That said, buying another jar of Alta Rica coffee for £3 was irresistible.  I do have expensive tastes, which is no bad thing – just have to have the good stuff less often.
Feel like I've now gone way over budget this week and need to "draw in my horns", as my mother would say.  Plenty of main courses in the fridge, so long as I don't mind eating the same things again and again, so I might have to think of creative ways to make them look like appetising leftovers.
Anyway, for tonight's purposes it will be chop suey.  Not as in a Chinese dish, but in the approximate meaning of the words in Mandarin Chinese: "assorted pieces" from my groaning refrigerator!
Day 17: So the weekend is over and it's back to the daily grind.  More bread being made, since it is cheap and filling.  Pork chops out of the freezer for tonight but need to think how to cook them – possibly with pasta since that is also cheap and filling.  Breakfast was cheese on toast with baked beans.  Sigh!
Day 18: A friend was due to come to lunch today, for which I had planned mushroom risotto (she being the mushroom queen.)  Sadly, her mother's illness meant she could not come, so last night was a pork and mushroom risotto, and very tasty it proved too.
Today I have the ingredients to make a chicken tagine with chick peas, preserved lemons, dried apricots and cous-cous, but the friend I invited instead can't make it, so the dish can cook slowly in my tagine until Thursday.  This is not the first tagine I've made, but the first since getting a book of tagine recipes.  As is my usual practice, I look at a few recipes then adapt and amend for my own purposes (see this blog.)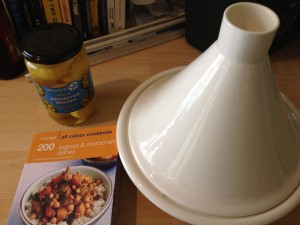 Meanwhile, for tonight it will have to be pasta and pesto.  Unfortunately more shopping bills have been racking up, to the extent that I need to stop spending altogether for the next week.  Make do with what we have :S.
Day 19: Cooked a large batch of tagine with chicken breast (reduced to £1.95 in Tesco), chick peas, preserved lemon, dried apricots, a home-dried prune (!), honey, nuts, spices, onion, carrot, a red pepper from the jar, garlic, a splash of tomato, home-made chicken stock and a couple of pickled whole chillis.  And yes, I do have couscous and harissa with which to serve it.  The dish is now cooking slowly in the slow oven, though to get the tagine in I had to take the rack out!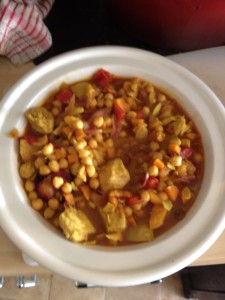 This will serve for several meals, in all probability!
2 Oct: Yes, OK, I know I didn't update for some days but I was kind of busy for a fair number of them.  However, apart from a day with the kids visiting my sister in Suffolk I stuck rigidly to the challenge.  At the insistence of my sponsor the diesel to visit Sally and family is included in the final reckoning (see below), which I have estimated at £19.
In fact, I didn't spend anything on food for the last week and just survived on what I had left, pules, veg and other stuff, helped out by a few Tesco coupons.  In fact, I also finally found a pack of lambs kidneys.  These cost £1.10, made two nutritious iron-packed meals of devilled kidneys, and were just perfect for the challenge.   Note also that the chicken tagine made an astonishing number of dinners – about 4 I think!!
Thanks to taking the kids away I even have a very cheap whole chicken left in the freezer now for next weekend!!  The final shop did include some wash tabs, as promised.
Final spending:  Well it was a bit tight in the end but I succeeded by spending a total of £127.95 – just £2.05 inside the target sum of £130 for the month.
| | | | |
| --- | --- | --- | --- |
| Week | Source | Amount | Details |
| 1 | Sainsburys | 30.45 | |
| 1 | Tesco | 2.65 | |
| 2 | Asda | 5.02 | |
| 2 | Tesco | 18.70 | |
| 3 | Tesco | 20.99 | |
| 3 | Eggs | 1.00 | |
| 3 | Diesel | 19.00 | |
| 3 | Entertainment | 8.10 | Beer festival |
| 4 | Tesco | 5.19 | Use of Tesco coupons and vouchers |
| 4 | Tesco | 8.47 | |
| 4 | Tesco | 8.38 | |
| | Total | £127.95 | |
Lessons:  I can't promise I will avoid expensive luxury foods altogether, but the lessons learned from this venture include the following:
Buy Tesco or Sainsbury own brand cat food occasionally – the critters usually eat it!
Ditto a few of the bargain own brand stuff.  There are a number of really horrible items but most are quite passable.
Cook at least one veggie dish a week, and make especially good use of pulses.  Cheap, nourishing and filling.
Continue to cook batches for the freezer.
Seek out some more unusual ingredients, particularly fish and veg.  Sometimes they take a bit more work but are worth it.
Buy cheaper cuts of meat rather than prime joints.  There are always excellent ways to cook them, usually long and slow.  OK, so liver wasn't a hit but one failure is permissible!
Buy bulk commodity items when they are cheap – loo rolls, wash tabs etc.
But… whatever anyone says, economising on coffee is totally counterproductive!!