As I write this, it's been 8 years, 3 months and 4 days since my dad died.  I've been meaning to write a blog about him for some considerable time, but something always stopped me.  Even though it is some years, part of the memory is still raw and emotional.
He died in October 2004, just over a month shy of his 75th birthday.  He had been in a hospice in Macclesfield for a few weeks, with inoperable cancer expected to see an end to him – though in the end it might have been a stroke or heart attack, we shall never know.  Taking the family along, we had been to see him as often as possible but sadly I was at home in Broxbourne when my mother's call came at 3am.  I drove up there without delay at an average of about 95mph and took my mum to see him at the hospice.
It was almost a bizarre, Orton-like twist when we saw his body and realised they had left his false teeth in, giving him a strange and un-lifelike appearance, not unlike a large dead rodent – which would greatly have amused him, were he able to see for himself!  It would just appeal to his slightly absurdist sense of humour.
Once the teeth were removed I stood there and looked at him for what seemed an age, lying peacefully on the bed in a private area.  And I've been thinking about him ever since, one way or another.  Barely a day goes by without me considering some aspect of our complex, multi-faceted relationship, some event that happened in the past, re-interpreting how we related and what he would have done and said, had he been alive now.
The other strange thing was that when my sister, Sally, saw him dead, she was immediately consumed by a flood of tears.  In spite of ours being in many ways a close and complex relationships, I did not, could not cry for my dad then, nor at his funeral.  But he knew I cared deeper than I could ever articulate.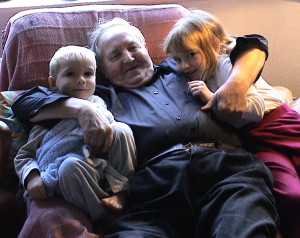 Dad was born in Coventry on 1929, coinciding with the Wall Street Crash and the start of the Great Depression (no connection!)  While my mother was evacuated to relatives in Oxford during the war, he survived near misses as Coventry was carpet-bombed by German planes.  When a bomb blew out all the windows in the street, he moved 2 miles or so out to Longford, where my grandparents lived during my early years.
He met my mum at the age of about 13 at a church youth club, a childhood romance that blossomed.  They married 10 years later, only for my dad to be called up and to serve in the army for two years in Germany.  My mother visited him there, including the time he was stationed in Minden, a town not far from Hameln, Hannover and Osnabrück.
After national service, he resumed his apprenticeship and training as an architect, working for Coventry City Council, then later Courtaulds, for whom my mum's dad also worked – a major employer in the Coventry area at the time.  I came along in November 1959, well over 6 years after they married, and was born at home: 61 Berkswell Road, Coventry.  I was followed at the same address by my sister almost five years later.
We moved to Wilmslow so he could work as the associate partner running the Manchester office of his firm, which by sheer coincidence bore my mother's maiden name.  When that office was closed, he started up another in Wilmslow, where my mum still lives to this day.  There he was happy, until the partners decided to close that office and ask him to move back to Coventry.  Since I was then settled at school and doing O-levels, he refused.  At length he left the firm, we stayed in Wilmslow and he eventually became the architectural aluminium manager for a glazing firm, Wright and Offland, where he stayed until redundancy forced him to retire at the age of 63, while my mum carried on working as a librarian beyond retirement age.
Looking back, I can see that he sacrificed his career for my future, something I find very difficult to describe – greater love hath no man.  And for that matter, he gave up smoking in 1970 when I might well otherwise have started.  Neither did I ever see him drunk, nor even have more than a couple of pints (though my mum has said he did turn up at home drunk on one occasion, thanks to some less than salubrious friends.)  For that too I owe him many thanks.  His generosity of spirit and extraordinary acts of kindness will never be forgotten.
I am reminded that John Mortimer wrote a play about his old man, famously entitled "Voyage round my Father".  I know exactly what he meant.  My dad was many things, and most certainly had his dark side, though I have often wondered how well I truly knew him.  My mum can recount anecdotes about their time together or his views on this or that, but somehow there seems to be a large part of Allan Millward that I have to piece together from fragments and clues, not least because articulating his feelings never came naturally to dad, such was the pressure on his generation to keep a stiff upper lip and never admit to love or the softer side of his emotional spectrum.
It's not that he hid anything away (though my mum did claim he kept some of his purchases secret from her, some of which she only discovered after his death!), and I can clearly identify some of his characteristics within myself, but I've always thought there were parts of his persona and history were hidden from view, places in his mind he liked to go when nobody was looking, private places.
There are many facets of his personality I do remember clearly.  He was incredibly charming, generous and loving in his own particular way.  His family was always his rock, his driving force, his passion.  He loved children, especially his grandchildren – as shown in the photograph above.  And indeed there were many extraordinary acts of love, kindness and generosity, though the flipside was a tendency towards being highly volatile, sometimes in the name of being an authoritative parent, something that did not come naturally to him.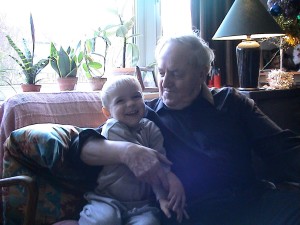 My dad had a quick and fiery temper that flared without warning.  He was certainly not averse to beating if he felt it was justified, often for defying him; in those moments I could smell his fear, remember vividly the wild look in his eyes.  As a child this made me very wary, almost frightened of him, not wanting to upset him, maybe steering clear at times when in hindsight I should have shown greater trust.
His relationship with my sister, who was often more extrovert than me and who would on occasions stand up to him, was even more explosive, to the point where they came to blows.  Sally once walked out, and in fact my dad threatened to leave too but never did – ultimately his family meant too much, and despite indications to the contrary he was deeply attached to my mum.
Sometimes he realised the impact his temper had on his family.  There was an occasion when I was playing cricket in the garden with a friend.  I bowled a ball which reared up off the uneven lawn and broke a small window at the far end of the carport.  Immediately he came out and shouted at me so loud all the neighbours must have heard.  I cried and went off to my room, as you might expect.  Some time later he came up and apologised: "I shouldn't have bawled you out," he said, "I did that too when I was your age."
It was only much later I came to realise that he too suffered greatly with his own demons.  In many ways he was insecure, and sometimes took it out on those he loved his own.  The family dog was a golden retriever, Benjie, who was acquired as a puppy in 1980 and was put to sleep while suffering from pneumonia in 1992.
Benjie was a fine and noble beast; he and my dad were devoted to one another. Benjie shared my dad's dinners and walked with him at their favourite haunts at least twice a day, more on weekends.  By coincidence I called in at the house soon after my dad had had to leave Benjie at the vets for the final time.  His eyes were red and it was all he could do to stop himself breaking down – since showing weakness was something his generation were trained never to do.
It became worse, plunging him into grief and depression.  He grew his hair until he had long, white flowing locks; he stopped shaving (even though he couldn't grow a beard to save his life!), became totally withdrawn and would not go out.  My mother was terribly worried and asked me to have a word with him, though he would not go to the GP and the thought of acknowledging depression in public was a total anathema to my dad.  That period lasted two years, to be best of my recollection.  His relationship with depression and my own fuelled by big on the subject, entitled Black Dog.
In fact, with age my dad's health became weaker and the vulnerability became more obvious.  It began in my teens with his various knee and hip replacements, not to mention other operations on both.  At various times he suffered problems with his eyes and heart, was treated for prostate cancer for years, and towards the end of his life suffered from crippling arthritis.  If that was not enough to deal with, he also had several mini-strokes, including one within sight of one of the country's leading stroke units in Shrewsbury.
One of the events I remember vividly was when he suffered a major heart attack while out with Sally and Bob in a restaurant in Stoke Newington, near to the cardiac unit at Homerton hospital.  By an incredible coincidence, I was nearby on Fenchurch Street at an MBA evening class with my car at the time (the only time that ever happened!), and was therefore able to reach the hospital within half an hour.
On that occasion he escaped by the skin of his teeth and with a pacemaker, but he was painfully aware of his own mortality and his legacy on the family.  The more I look back, the more I think he lived a charmed life to reach the age of 74, not least since his own dad, who had for years run a fish and chip shop, died of a heart attack at 63.  His attitude to his own demise became philosophical – he developed his own variety of gallows humour and never showed any fear of dying.
In some ways it's hard for both parent and child to come to terms with the decay of ageing, when someone you thought of as all powerful suddenly becomes a pale shadow.  For him it must have been humiliating, humbling.  During my teenage years he showed his love for me by taking me to football matches, rugby matches, speedway matches up and down the country.  When he was in the hospice the last time I saw him, I thanked him for his devotion to me in that way. "Don't thank me" he replied, "Do the same for Adam."
As it was we became parents to him at the end of his life.  In spite of the severe December cold, I took him in his wheelchair to see a football match at Stockport County at Christmas time, and to our beloved Belle Vue to see the Aces in the Spring.  What a performance it was, too – I had to push him up (and later down) a concrete slope that was like the north face of the Eiger, and then when we got into the covered stand we found there was no way to go to the loo without a very slow and painful walk up or down steep stairs.  There was nothing the speedway promotion could do about it, given that the GRA (Greyhound Racing Association) owned the stadium, but it showed me precisely why all stadia should be designed with the handicapped in mind.
In hindsight it is not surprising he chose to take me to sports matches as a means of showing his love for "my son and heir", since he was not a natural communicator.  Sociable, yes; effective at communicating ideas and feelings, no.  Arguably he, in fact both my parents were emotionally repressed in the best traditions of British culture, barely able to articulate feelings to those they most loved.
I overcame my teenage shyness and depression and learned to be confident and eloquent, where he seemed to me tongue-tied, unable to articulate his feelings in any obvious way, nor even to discuss anything important or sensitive without embarrassment – and certainly not sex!  Indeed, as a teenager it was easier for me to write to him and him write back than talk.  It's with a sense of irony that I can say I have now learned to articulate my feelings in ways he never found possible.
Hardly surprising that his main hobbies were quite introverted – he loved playing chess and fishing.  On occasions he would go off to one pool or river very early in the morning, stay all day and return – usually without the spoils, given that they were club waters and bringing home carp or roach was not permitted.  He probably felt more relaxed and at peace while fishing, something I experience by going to see a cricket match on a warm day.  It's not simply the activity that relaxes you, it's everything – winding down your mind.
Often he went with his best friend, Ernest "Griff" Griffin.  Griff was later killed in the 1974 Paris air crash while on the way back from a holiday in Istanbul, ironically an anniversary present from his wife on which she could not join him because of child care commitments.  From that moment on my dad almost never flew (I believe there were one or two instances, but only when there was no alternative), though he drove us all around Europe for thousands of miles.  Since my mum never drove, she was always in the passenger seat with the footwell crammed with picnic accessories and all manner of extra luggage, but he drove and drove and drove, mostly around his beloved Scandinavia.
These holidays began in 1974, before which we went to UK seaside resorts like Scarborough and Morecambe.  We toured Norway, Sweden and Denmark on several occasions, then ventured out into Germany (I was learning German, so that was a great chance to practice!), Holland and Belgium.
At the time the package holiday industry had begun to boom, with Brits heading off for the Costa Brava to eat fish and chips and drink Watney's Red Barrel, so I feel incredibly lucky that we were doing something very different, learning much more about the cultures of the countries we visited, trying the food, staying in youth hostels and experiencing everything.  It is a lesson I never forgot, and certainly try to tour places with my kids with the same attitude.
He was quite practical, could engage in DIY tasks and much more far better than I ever could.  I remember once he constructed a guinea pig hutch from aluminium offcuts and perspex, which seems quite remarkable now I think about it.  But he was always full of grandiose schemes that never reached fruition.  The house never had central heating but did have an open Baxi fire.  From 1966 onwards he was talking about installing central heating, but never did.
Equally plans to build extensions, which would potentially have added rooms and a bigger kitchen, never saw light of day.  He talked a good game but could procrastinate better than anyone I ever met.  Even installing double glazing, since he worked for a glazing company.  He acquired stacks of units with the intention of putting aluminium windows and double glazing, but they sat in the carport and are still there to this day.  In the end he admitted defeat and bought uPVC replacement windows instead.
But one thing he could not do was cook.  Indeed, he once said to me that he could "burn water".  When mum was working to 8pm, twice a week, plus alternate Saturdays, it was my job to heat and serve dinner from the age of 13 – even cooking spaghetti bolognaise by torchlight on a Primus stove during the power cuts in 1974!  On Saturday lunchtimes though it was a treat for Sally and me – Fray Bentos steak and kidney pie from the can, plus chips from the fish & chip shop.
While canned pies don't fit well with my foodie ethos, I have fond childhood memories of that particular comfort food.  Being out with dad meant fish and chips, something which clearly evoked memories of his own childhood.  Whenever he and my mum came to stay, it was me that cooked, my mum standing in the kitchen looking over my shoulder to see what I was doing, but he would always be playing with his grandchildren – and they loved him for being able to talk with them on their level, play games and throw them around, much to their delight.  Talking seriously may have eluded him, but being with small children he did brilliantly!
One thing I wish he had done for me though: pushed me into playing a musical instrument, encouraged me and helped me to master a skill like that or some other.  This is one reason why I was so keen to give my kids every opportunity to play.  He also had the view that I was tone deaf, so it was a surprise years later when the musical director of the revue in which I was appearing said I was singing too high and that if I tried an octave lower I would be fine – a bit more positive reinforcement would have been preferable!!
He was, for his sins, quite a hoarder.  He collected all manner of things – books, videos (who has videos nowadays?), CDs, Toby jugs, chess sets, mugs, miniatures, you name it.  Moving around the house was often difficult, so it took mum some years to sort through the stuff and clear away some of the junk in order to have the house redecorated after he had gone.  In some ways that's another trait I inherited – I find it difficult to part with some items, especially those with associated memories, though I am nothing like as bad as he was in that respect.
I certainly did not agree with my dad about all things, one of which was undoubtedly his homophobia.  He detested homosexuality with, in his own words, "every fibre of my being."  I don't know if he ever had a bad experience or if he ever feared that I was gay, though on more than one occasion I argued with him about that subject and in other contexts too about his lack of tolerance to other points of view.
Often, he would not brook any disagreement with his opinion, and hated above everything being defeated by virtue of logic or evidence to the contrary – that would undoubtedly light his blue touchpaper and send the rocket of his temper soaring with the argument "you will listen to me because I am your father."  In a sense, I think that if he was alive now we could probably have much more reasonable discussions about many topics that in earlier days were simply impossible, all the more so since he became more tolerant and mellow in his later years.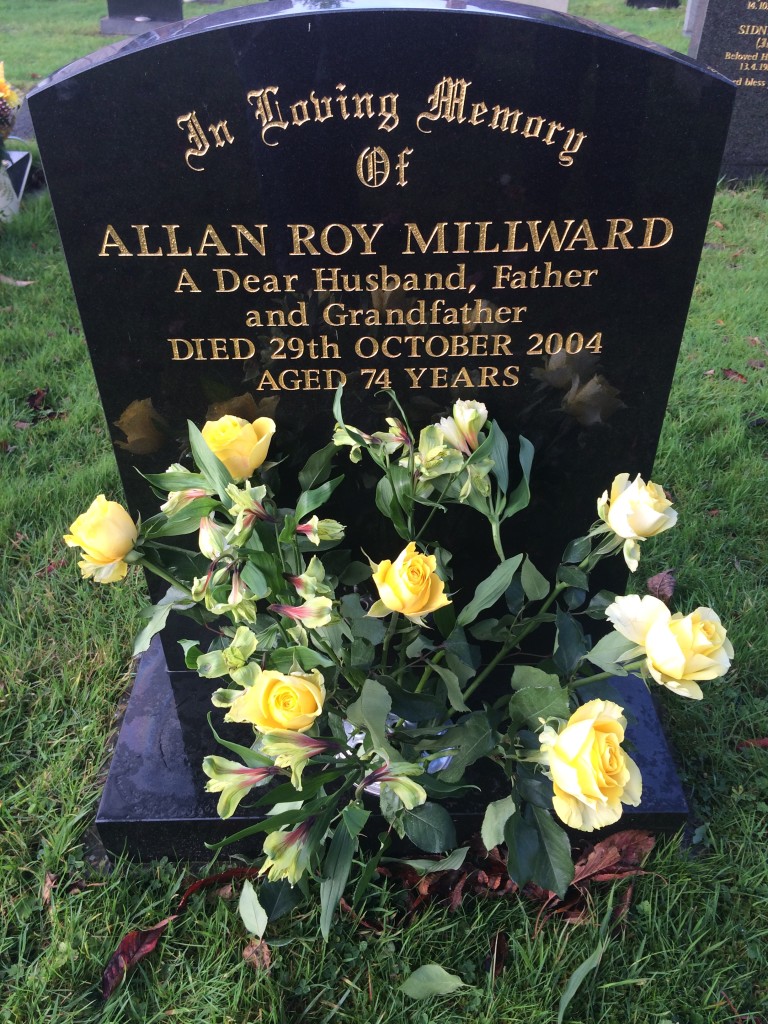 But to return to an earlier theme, he cared about his family with a passion.  He and my mum were married for well over 51 years at the time he died, and indeed were he still alive it's quite possible he would have stopped my marriage from ending, though there were occasions when his marriage to my mum seemed to us kids very rocky.  Something stopped him on each occasion we thought things might end in separation, though in fairness there were many more unreasonable and violent men than him.
However, his and my mum's favourite moment was when Sally and I bought them a weekend at a Spa hotel near Chester for their Golden Wedding anniversary.  I took them to the theatre (they loved live theatre and classical concerts, and were season ticket holders at the Royal Exchange in the early days – hardly surprising I developed a love for theatre), we had special meals, we presented them with a cake, and of course they enjoyed the spa facilities.  Mum says they were never happier.  That is a great memory I hold of him, with all his family.
Something Sally pointed out came out from her discussions with our mum relates to his high expectations of me, being the eldest.  He never had the chance to go to university, and was determined to make sure I did.  As I've written before, my depression had a severe impact on my teenage years, meaning I badly under-performed at school, though it felt at the time like I was a severe disappointment to him.  Given how strong and deep my love for him as my father was, this was incredibly difficult to deal with – and Sally and my mum felt he was too hard on me.
He rarely spoke about that, but for me it was a crushing blow – that I was not quite good enough, that I had let him down.  I felt guilty, though later when I got a degree, a PGCE, a career as a freelance management consultant and then an MBA I knew he was very proud of me in some small quiet way – but he did not actually say those words.  It was very sad for me when he was too ill to attend my MBA presentation at Henley in 2003 – that would have been my resurrection, proof that I was truly worthy of him.  In the final analysis, he was very proud of me, my family, Sally and her family, and that pride defined him.
But maybe the most important thing I need to say about my dad was that he once saved my life.  I was about 7 or 8 at the time, at my grandmother's, his mother's, house in the Longford area of Coventry.  This was a big, ramshackle property with uneven walls, an outside loo and a big shed which led through to what had been the fish and chip shop, long since closed down.  There was also a decaying garage.
On one typical day while we were down in Coventry visiting grandparents I was playing in this garage, which was maybe not very wise, with all the adults and my sister in the house.  I noticed wires trailing down from the ceiling and, being just a kid and thereby curious, touched them.  Immediately I got a massive shock, was stuck to the cable and could not do anything but shout his name.  He ran to the garage and pulled me off the cable before shutting off the electricity and disconnecting the cable.  I was fine, though my dignity was bruised – a lucky escape.  This was perhaps his finest moment, for he recognised that I did not want to talk about it and discreetly chose not to mention it in front of me again.
To him I owe my life in more ways than one.  As I said at the start of this rambling monologue, rarely a day goes by without my thinking about him and missing him, even all this time later.  In a sense, every relationship between father and child is incomplete and has further distance to travel, and often it is those moments on which we choose to dwell – thinking of what might have been.
My final act for him was to read the eulogy at his funeral, where I expressed some though by no means all of these feelings.  I also read this well-known poem:
Do not stand at my grave and weep
I am not there, I do not sleep
I am a 1,000 winds that blow
I am the diamond glints on snow
I am the sun on ripened grain
I am the gentle autumn rain
When you awaken in the morning's hush
I am the swift uplifting rush
Of quiet birds in circled light
I am the soft star that shines at night
Do not stand at my grave and cry
I am not there; I did not die.

Anon, 20th century
PS. A friend reading this blog said my dad sounds like "a wonderful man who was restricted by the morals and standards of his generation."  I think that sums him up beautifully, and sadly there were aspects of those morals and standards which were negative and unhelpful.  He did his best because of, and sometimes in spite of those values.