Churchill famously referred to his depression as his "black dog" – perhaps because it was faithful to the last, always at his feet.  Maybe animals are one analogy too far but I've sometimes thought in poetic terms – that the joyless self-loathing makes me feel Byronic: "mad, bad and dangerous to know", incapable of rational decisions, struggling to gain sustenance from those who support and care for me.  This is not a happy world to inhabit.
Several times I've started threads on Facebook about depression and ended up with a long string of replies.  It's a subject about which I feel very strongly, and so, apparently, do many other people.
For the record, my history with this wretched illness goes back to my teens, to my knowledge.  In the 70s it was utterly taboo – one simply did not talk about mental illnesses in polite and respectable society, and never, ever, under any circumstances could one ever admit to them in public, and usually not in private either – even to yourself.  It would impact your life, career and make you a social outcast so to do, so you never went to the GP or suggested to anyone influential you might be suffering a depressive illness. Someone of my dad's generation would never have dreamed of doing any such thing, though he too clearly suffered depressive interludes.
Why?  You would be bonkers, looney tunes, for all intents and purposes sub-human and not worthy of your place in society.  Real men, they might claim, keep a stiff upper lip and never complain. Worse, it carried with it allusions to Victorian asylums and Bedlam.  Admit to mental illness and your life and respectability would fall apart.
Even if you did go to a GP they would not have a clue how to deal with it, since medical training in depression was basic and lacked any form of empathy.  At that time, you would be more likely to get a pep talk along the lines of "pull yourself together, man."
To my parents, it seemed like I was withdrawn, reluctant to sit with them or engage, but they never understood why.  Nor did they understand my inner turmoil, putting it all down to teenage hormones.  It impacted every aspect of my life – schoolwork, where I severely underperformed, and socially where making friends was difficult. I was thought of as overcome by shyness, but nobody inquired too closely about why that was.
I did get diagnosed in my 20s, but not until the illness had spiralled out of control.  I went to a GP in Nottingham and broke down in tears.  The poor man looked terrified but did pass me on to a counsellor and prescribed me my first medication.  In those days anti-depressants were frankly a very crude weapon, and the first ones (don't ask me what they were, can't remember) did not have any benefit that I can recall.  The counselling probably dealt with some of my immediate trigger points but did not go into any depth or look far below the hood.  NHS funding was not there for therapy, so it stopped after a few sessions.
Over the years I suffered periodic spells where the illness blighted my life.  It felt like a crushing weight, stopping me doing anything, sucking the life out of me, preventing me gaining enjoyment, making any minor downturn in fortunes spiral out of control.  What makes it worse is that depressive interludes come and go, so there were times when I could see how wonderful life could be without it – a cruel trick of nature.  Mood swings are arguably the most difficult aspect to live with, especially for your loved ones who can't see or understand what is going on within.
There were many times where I learned to control it by compartmentalising the utter despair in order to get on life – often to hide it from those close to me, but this only made matters worse.  From the time I got married, I used compartmentalisation increasingly to hide away my true feelings – and it's frightening how many people are in total denial of feelings, depressive or otherwise.  It became like seeing myself in the third person, this depressed person hidden away in a box while I wore my professional mask, or my family mask, or whatever mask was appropriate to the circumstances.  There is a case for saying compartmentalisation, which we all do to a greater or lesser degree, is as bad as the depression, making us hide away feelings and bottle up emotions.
But sometimes the tsunami of depressive feelings washed over all these attempts at normality; so, as soon as I could force myself to do so, I went back to the GP and got more medication.  I also did years of therapy to try to reconcile the irreconcilable, mostly of the Psychodynamic variety, but others too, including a rather feeble CBT that left me feeling like one of Pavlov's dogs.
On one occasion I totally lost faith in the therapist and walked out on her.  One moved away, I moved away on another occasion.  All told, I got through more therapists than I care to remember, though none ever reached a point at which I believed I had reached any form of conclusive end point. It never seemed to go anywhere and certainly never produced any blinding revelations – though maybe it is foolish to believe it ever would.
Worse still, the medication (by this time I was on Prozac equivalents, and quite a lot of them) made me into a person I despised.  Yes, it probably evened out the worst of the mood swings, such that I was less unpredictable and self-hating, but it made me feel very bland, stifled all the creativity that made life worth living.
So one day I gave it up.  Stopped the pills and stopped the therapy. Actually, there was much more to it than that, and the whole process occurred over a longer period, but in essence it boiled down to giving myself CBT and setting down some rules for living:
End the compartmentalisation, that certainly contributed to the downfall of my marriage, and live by a simple philosophy of being open and wearing my heart on my sleeve.
Retain a positive outlook at all times, and remember there is a positive flipside to every negative.
Set goals, starting with small quick wins that make me feel more confident, then chunk bigger ones down into bite-sized components that can be achieved.
Look forward, not back.  Draw a line under the past.
Remember it's OK to be down for a day, or even two under extreme circumstances, but never let something bad spiral out of control.  Come back stronger and give as good as you get.
Exercise regularly, even if it's only an occasional walk.
Do things that instil a feeling of well-being – and for me that includes good conversation, acting, writing and cooking.
Don't do negative things that bring you down.  These include being with negative people and allowing bad news disturb my equilibrium – or at least to tell someone if they are being negative and give them a chance to change their demeanour.
There is more but those were the essentials.  Gaining pleasure from keeping busy, and especially the creative stuff like amateur acting and writing, is key to success.  Recognise that you can't be happy all the time and that a range of emotions is perfectly normal and you can be fine, but allowing yourself to take pleasure as well as feeling bad makes all the difference.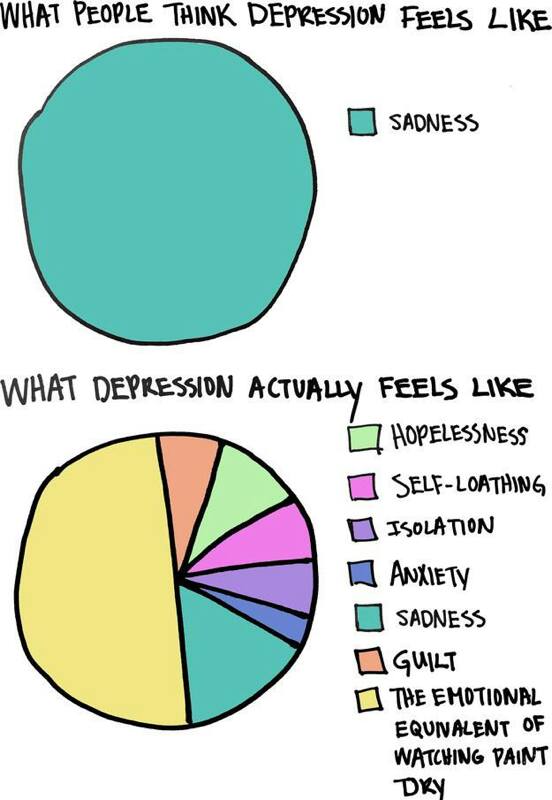 In truth I've had a lousy 2011, with lots of bad moments during which I've felt very down, but whereas in the past it would have resulted in my withdrawing from life completely, now I keep on engaging and don't give up.  I'm not proud of some of my own behaviour during down spells, but equally I know the best way is to improve and do better next time.
This won't work for everyone, but some of the things I did will be helpful to some degree for most people.  For one thing, the more positively you behave towards other people, the more likely things are to go your way… strange but true!  On the flipside, some people are likely to be embarrassed to be given a full and straight answer to the question "how are you?" rather than the social norm of "fine thanks", but that is a small price to pay.  Openness and honesty about yourself is key to putting depression in perspective.
To put it another way, depression is part of who I am, and if suppressing it means switching off the parts of me that make life worth living – which certainly includes the acting and writing – then the cure is far worse than the disease.  Yes, enduring depression means coping with a barrage of suicidal thoughts, but you need to think more about what positive aspects of life make it a joy to behold.  With the medication, that was not possible for me since it's what you do that raises your self-esteem and joie de vivre, not what you take: you get out what you put in.
It's certainly worth a try, even though the medical fraternity will tell you that cold turkey on the pills is not sensible, and can make things a lot worse.  Do it with medical agreement, by all means, and come off gradually if you do, but don't be conned into thinking pills are a panacea.  SSRIs are in many cases no more effective than placebos, and are most certainly not a proven cure – there is no cure, only improved management and better coping mechanisms.  In fact, there is much debate about if, or why, they do have an effect, if they do at all for more than a short-term basis.
Furthermore, some of the side-effects of medication can be evil (constipation and temporary impotence, for example!!), not to mention the combined effects with other medication.  They are dispensed because it's easier to provide drugs sold to the GPs by salesmen for the pharmcos, with benefits for the GP if they do.  By giving prescriptions they can be seen to be doing something constructive rather than pandering to the ambiguity of talking cures.  What I abhor is GPs who automatically prescribe antidepressant X because pharmco Y is paying him/her to do so – and I have no doubt whatever that it does go on.
However, I'm not saying for a moment that anyone should do without the meds entirely if the effects are to stave off the worst of depressive attacks, which can be very frightening.  On the contrary, there are many times when medication is absolutely the right step to take, but only when the condition has been reviewed holistically.
If you've never suffered, it's worth finding out about how people who do actually feel, because for all the fact that depression is now deemed to be of epidemic proportions, it's still widely misunderstood.  Suicidal thoughts probably sound to most people the worst, but if you're going through a severe depressive spell suicidal fantasies are almost comforting.  The thought that everyone else will be much better off without you and your misery may come to a blissful end… that's how bad depression gets.  Anyone who has not experienced it cannot appreciate how totally it crushes your entire life, stops you from any constructive action, stops you gaining pleasure from life.
So if you are reading this and still belong to the school of thought that believes depressives are malingerers and self-pitiers, I hope for your sake that mental illness does not impact on you or your loved ones.  Sure, there may be some people who think it's easier to get a depression diagnosis as an excuse to pull a sickie, but the rise in cases recorded by GPs is only a reflection of the reality – many people still choose to hide their depression rather than admit to it.  As we near 2012, that is an appalling fact.
But some within the medical profession believes depression is over-diagnosed.   From my perspective, many more still don't get the right treatment, and pay the price.
If you know of anyone who is who you fear may be suicidally depressive (and they are not likely to discuss this openly if they mean it for real – only if they are making a gesture to gain attention and sympathy), the thing to do is to talk to them and persuade them to get medical attention as soon as possible.  They will probably deny it, but the clues are often there for anyone who loves or cares to see.  Funny then that loved ones so often seem to be looking in the wrong direction at the wrong time.
Be happy!  And if you want to know more about what it's like, watch this video – it says much about how it made me feel and how I came to terms with my own black dog.
PS.  Thank goodness for people like Stephen Fry who talk about mental illness and suicide attempts openly.
PPS.  An interesting and generally excellent list of things people don't tell you about depression can be found here.  I agree with all but three of those, though experiences will vary.  22 on that list should be that no two people will experience depression in exactly the same way so if you don't fit into a precise pattern of symptoms does not mean you're not depressed.
For me it was 5, 16 and 18 that didn't fit. Some friends wondered what was wrong but nobody ditched me, for which I credit my choice of friends.  I didn't argue with anyone about me or how good I was – I'd withdraw before it ever got to that point.  But introspectively I did look in the mirror a lot, looking for cracks.
In fact, I'll copy the whole list, courtesy of Buzfeed: