Note that these are not necessarily in order, and will change on a daily basis!!  9 are in black and white, and most would be considered "golden oldies" – definitely my view that Hollywood throws out plenty of dross but almost no authentic classics these days. Go figure!
1) It's A Wonderful Life: The ultimate feelgood movie, so they say. Actually, it's more than that, and a lot darker in parts.  It addresses some deep dark places in the American dream, without ever exploring the underbelly in any more than superficial detail… but still ends happily in spite of how close George Bailey comes to killing himself.  What makes IAWL so charming and repeatedly watchable is the brilliance of Jimmy Stewart as the good-natured boy who sacrifices his own future to take over his father's home loan friendly society in the mythical Bedford Falls in upstate New York. Who can resist tears?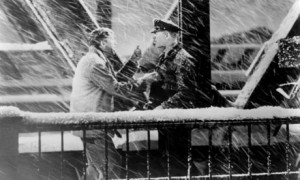 2) Amadeus: F Murray Abraham's tour de force Oscar-winning performance is totally riveting, but far from the only reason to watch this powerful tale of Mozart's death, told from Salieri's unreliable memory in the context of his personal battle against his deity.  American accents notwithstanding, this is a movie I can watch repeatedly for the drama, the storytelling, the acting, the glorious music and the operatic scenes.  This is truly a movie in a million.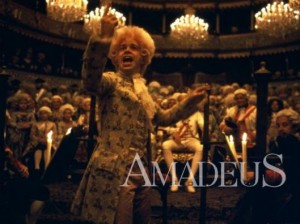 3) Day Of The Jackal: taut, tense, spare, the ultimate game of cat and mouse.  Edward Fox as the cool, calm and ruthless assassin, codenamed Jackal, aiming to kill De Gaulle; Michael Lonsdale as his unlikely nemesis, the phlegmatic assistant commissioner Claude Lebel.  Not only that, but Zinnemann's film of Frederick Forsyth's legendary thriller, captures to perfection the atmosphere of France in the 60s, not least through using authentic location shots.  You know how it will end but the movie grips you through to the end. A rare example of a movie that betters the original book.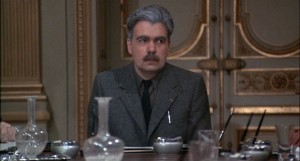 4) Some Like It Hot: directed by Billy Wilder, written by Wilder and IAL Diamond, starring Marilyn Monroe, Jack Lemmon and Tony Curtis, this could not really go wrong. Fizzing comedy from start to finish, great lines for great actors.  Utterly memorable and enchanting movie, set against the era of prohibition and gangsters.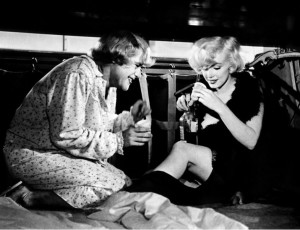 5) Brief Encounter: Like Lost in Translation, this is an understated and chaste love affair, smouldering in its barely spoken intensity.  The mood is captured beautifully by Celia Johnson and Trevor Howard.  Although very much of its time, the emotions are timeless.  Only right at the very end does the intensity of this unconsummated affair strike home.  Rachmaninov strikes exactly the right note.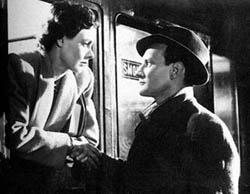 6) The Third Man: post-war Vienna captured in its crumbled glory.  The rats run but Harry Lime is one step ahead. Welles is cool and sharp, but even he cannot engineer an exit.  Gloriously photographed and sumptuously lit, and who could possibly forget the beguiling zither music?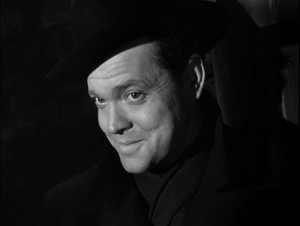 7) Citizen Kane: has won all the plaudits going, but thoroughly  deserves them.  Welles was 25 when he directed and starred in this epic tale of a failed newspaper tycoon rather too much like Randolph Hearst.  Sailing too close to the wind was Welles' forte, but this movie was 30 years ahead of its time in many of the techniques innovated.  Truly ground breaking, and the eternal mystery of Rosebud too!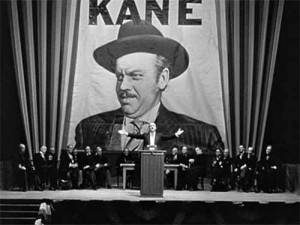 8 ) Amelie: a breath of fresh air for its charm and stylised quirkiness as humour, not least in the startling looks of Audrey Tautou, but so much more.  Minor cameo gems abound, each beautifully studied characters with a distinct role to play.  The attention to detail makes this film like a chocolate box – always something wonderful to pull out, no matter how often you see it.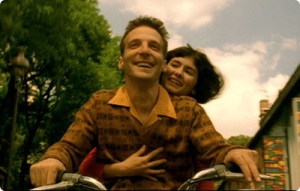 9) Godfather I & II: Francis Ford Coppola's heavyweight saga, based on the characters in the Mario Puzo novel, spawned a new generation of gangster movies.  Both the movies (and it's very hard to separate them, so integral are they to the overall plot) are iconic in content and delivery.  Character acting has rarely been so convincing, and who could forget Brando's turn as the eponymous antihero?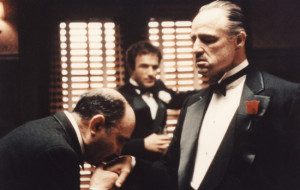 10) The Conversation: Coppola shot this minor epic between Godfathers I & II.  Gene Hackman was never better than as brooding jazz-loving surveillance expert Harry Caul, a man to whom privacy is everything.   Nods to Blow Up, but works brilliantly as an understated character/mystery study with a neat twist and a moment of horror.  The haunting piano theme music hits the mood to perfection.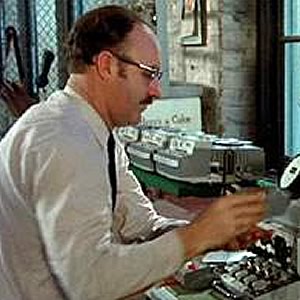 11) Lost In Translation: almost nothing to the plot – Bill Murray's actor, in Tokyo to shoot a whisky commercial, meets fellow insomniac Scarlett Johansson's bored wife of a celebrity photographer.  All emotion and feeling between them is subtly understated, all in the subtext, right up to the words he whispers in her ear… Directed by Coppola's daughter Sophia, who also appears in Godfather III.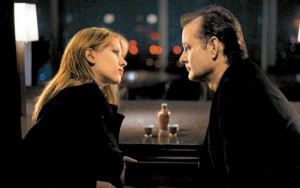 12) West Side Story: A brilliant Bernstein score, stunning choreography by Jerome Robbins, a poignant retelling of the Romeo & Juliet story in a stylised New York gangland, plus a vein of social commentary, by turns funny and tragic, and filmed in lush, rich primary colours and with the finest musical songs ever written.  Could not have been done better!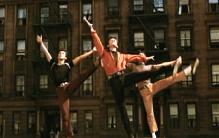 13) Distant Voices, Still Lives: First part of Terence Davies's fictionalised retelling of his own Liverpool childhood, told in a searing, stylised, fragmented kaleidoscope of memories.  Broadly captured in two halves, the first concerning the brutal father, brilliantly played by Pete Postlethwaite, the second lingering on the pub and the songs as the home of the community, its glue.  Stunning cinema.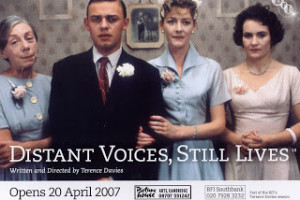 14) Sunset Boulevard: Film noir meets the last remnants of the silent era.  Gloria Swanson's dying Salome, Erich von Stroheim's eerie butler and William Holden's naive-yet-streetwise penniless writer combine to create an illusion of grandeur, before Holden meets his match.  De Mille looks on… sending himself up.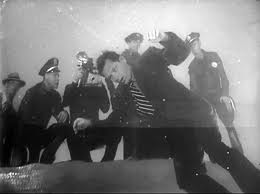 15) The Ladykillers: In my view the finest of the Ealing comedies. Alec Guinness, Peter Sellers, Cecil Parker, Herbert Lom and Danny Green are a sparkling cast of villains  outsmarted by Katie Johnson's wonderful old lady and end up killing one another instead. A joy!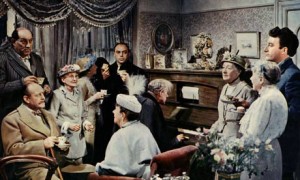 16) Casablanca: memorable quotes, memorable characters, memorable story, memorable song.  Bogie and Bergman – a classic duo at the top of their game.  Truly a classic movie with a classic ending.  The script and acting make it worth watching again and again.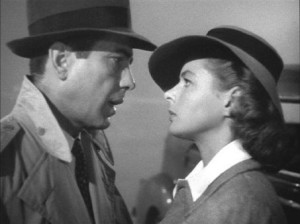 17) Topsy Turvy: Mike Leigh's take on Gilbert & Sullivan creating The Mikado is beautifully conceived and performed at every level. The operatic sequences are as good as any you will ever see, Jim Broadbent's Gilbert is nothing short of genius, and Alan Corduner's Sullivan not far behind.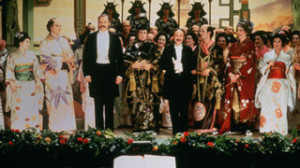 18) A Touch Of Evil: That Orson Welles was a genius was beyond doubt, and here he shows why yet again, as an actor playing the odious and corrupt Mexican police chief, and director.  The opening shot, done in a single take for about 5 minutes straight, is utterly brilliant – best ever in my opinion, even without the rest of the movie!!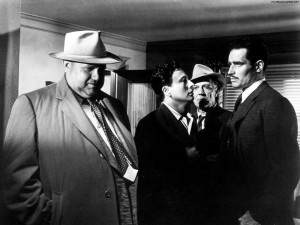 19) American Beauty: Lester Burnham is an everyman who gets to live life how he wants it for a change, until he gets his comeuppance. Powerful, smart, poetic, and beautifully played as an ensemble piece under the command of Kevin Spacey's Burnham, narrating from beyond the grave.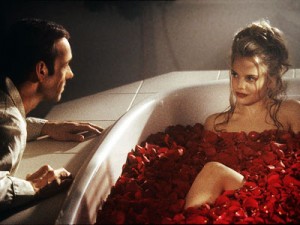 20) Who's Afraid of Virginia Woolf: Lots of contenders for the final place, but a coruscating psychological drama wins the prize, forensically picking apart the bones of George and Martha's marriage and lives in Burton & Taylor's finest match with the aid of innocents Nick & Honey.  Powerful and truly shattering.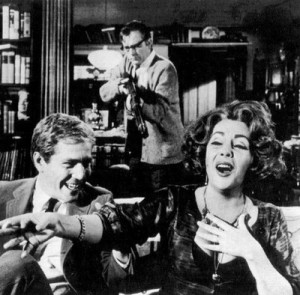 Praise also for many more, including: