A glorious breakfast or a light lunch, maybe even a starter for dinner, eggs benedict is truly a wonderful dish.  Given that this is truly a dish that repays your efforts, you wonder why do people not make it more often?  Several answers:
a zillion calories per portion;
nobody can be bothered with all that whisking and adding butter slowly;
poaching eggs properly is something of a dying art;
and outside of professional circles, making proper hollandaise sauce is almost extinct.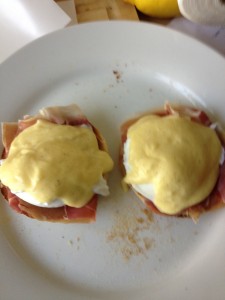 No, that's not fair – I'm sure there are a smattering of us that love to make it, but to the modern busy cook, it sounds like a lot of pfaffing around.  Yes, there are bottled varieties, but just like mayonnaise, it's simply not the same as home-made.  The point is that the sharpness of the wine vinegar and lemon juice cut through the richness of the thick, buttery sauce.  It is dreamy, sublime, exquisite!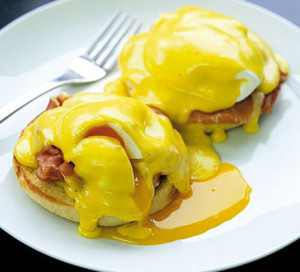 But back to basics.  Firstly, buy your eggs, ideally on the morning you wish to make your eggs benedict, and from a local free range source if at all possible.  To serve two people, you need two egg yolks for the hollandaise and two whole eggs for poaching.
Also select a good quality ham.  This recipe uses Parma ham (air-cured) but traditionally you would use an excellent smoked ham or other high-quality cooked ham, smoked bacon or pancetta.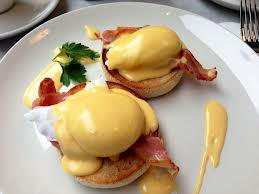 Ingredients:
For the hollandaise:

2 egg yolks
Splash of wine vinegar
Splash of lemon juice
Salt & pepper
c100-120g of the best quality butter you can buy

1 "English muffin" per person, split, toasted and buttered, kept warm
4 slices of Parma ham
2 eggs per person
Start with the hollandaise by separating the yolks from two eggs and putting them in a bowl.  The whites can go into another bowl and be used for meringue or whatever else you enjoy.  Whisk the eggs with sea salt and fresh-ground black pepper.
Next, heat a dessertspoon full of wine vinegar and the same of lemon juice in a small pan. I have made it with the addition of green peppercorns, and Ramsey also uses tarragon, but neither are essential. When they have reached boiling point, put the egg mixture in a bowl above a pan of simmering water.  Whisk into the egg yolk mixture until smooth.  Be sure to add slowly and steadily, whisking all the time.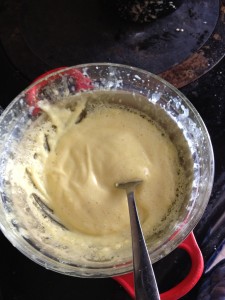 Melt the butter in a pan gently to avoid browning.  When it has melted, pour very slowly into the mixture, whisking constantly.  The mixture will thicken into a lovely yellow colour.  Keep warm.
Once you have the muffins toasted and the ham ready for assembly, poach the eggs.  Take a pan and half-fill it with boiling water plus a little salt.  Bring back to the boil, then put on a lower heat.  Crack two eggs into the pan, taking care not to break the yolks.  Fold the whites over the top to keep them neat and tidy.  Poach for 3 minutes max over gentle heat, checking whether the white is just set, like a blancmange, but not totally solid – this is when the yolk will be perfect, runny and delicious.  When your knife cuts through, the yolk should mingle with the hollandaise.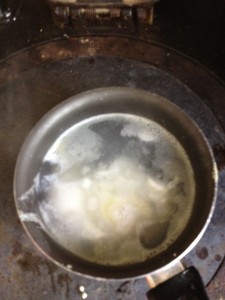 On your serving plates, put two halves of muffin, add a slice of Parma ham, folded to the shape of the muffin.  Add a poached egg on top.  Then spoon some hollandaise over the top.  Divine!