A favourite of my daughter, and different to the seafood risotto I also cook at regular intervals!  I've used big raw tiger prawns and scallops here, but you could use any shellfish, and even wet fish if you have the yearning.  As a general guide, I would always sear the fish separately and add at the last minute, in bite-sized chucks.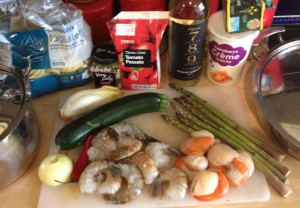 Ingredients:
Seafood (see above), prepared for cooking
Onion, finely chopped
Asparagus tips
Courgette, finely chopped
Chicory (optional)
1 red chilli, seeds removed & finely chopped
1-2 cloves garlic, finely chopped
Small handful of dill, finely chopped
Tomato passata or similar
White wine
Creme fraiche, or double cream if you're feeling lush!
Butter
Salt & pepper
Tagliatelle
Saute onion, courgette and chilli for a minute in a little olive oil.  Add garlic and asparagus tips and cook for 2-3 minutes.  Add dill and chicory, if used.
Meanwhile, take a heavy searing pan and wipe round with a kitchen roll soaked in olive oil.  Heat til smoking hot on high temperature.  Sear the scallops rapidly on both sides til coloured but not tough – a few seconds should do it.  Do the same with the prawns, making sure all hints of grey are removed and they are pink all over.
Cook the tagliatelle and drain.  Add to the sauté pan with a good knob of butter and lots of seasoning.  Add wine and reduce rapidly.  Add tomato and stir through.  Add seafood and creme fresh and stir through for a few seconds til warmed.  Serve immediately with salad.