Breakfast is not a hard meal to do well, though you may find that difficult to believe when you see some attempts.  Plenty of good cheap breakfast options are around, from the greasy spoon cafe to supermarket restaurants.
I wouldn't normally choose the latter but my recent spell of working in Mansfield gave me an ideal opportunity to correct any false impressions.  I was staying during the week at the hospital accommodation, which was just around the corner from a big Morrisons supermarket, where once or twice a week I would treat myself by going for breakfast.  There were plenty of options, though my favourite was the so-called "traditional breakfast" – three rashers of grilled back bacon, baked beans, two rounds of toast and two fried eggs, all for £3.75.  It wasn't the Ritz but for the money it was very decent and tasty.
Fast forward to today.  I had to be in Colchester early for a blood test, but didn't get around to having any breakfast before leaving home.  Best option to hand was the Asda store around the corner from the hospital.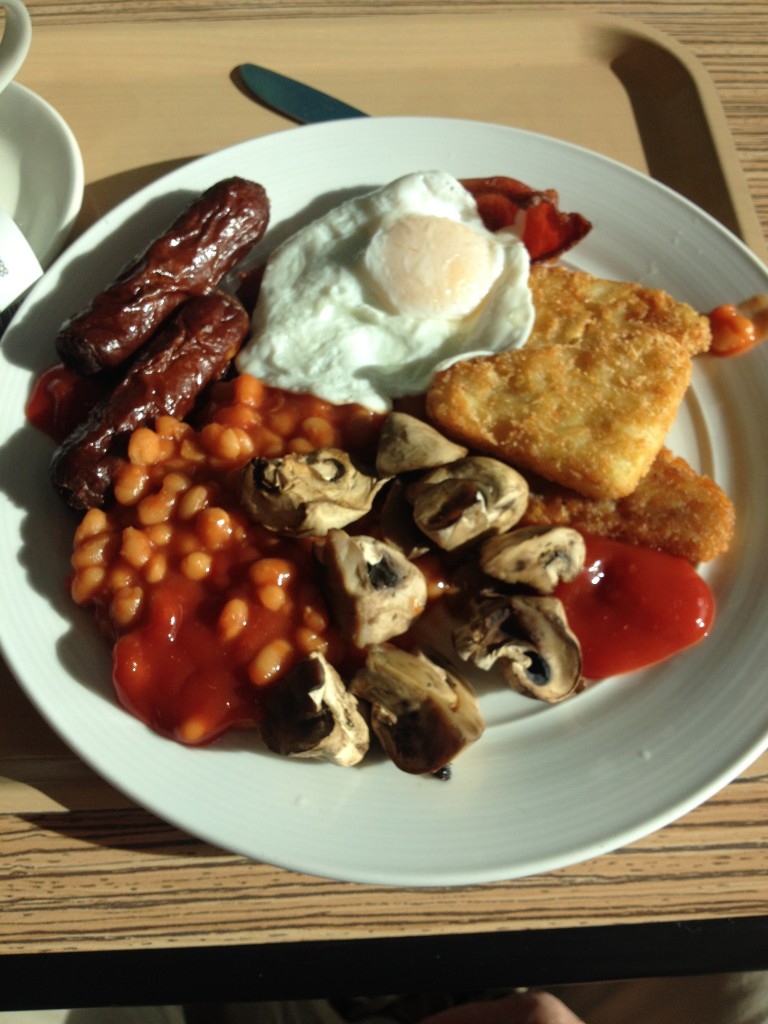 First thing to note is that the menu, unlike the Morrisons equivalent, is stuck to the wall behind the serving counter, not online, not in laminated format, and gives neither descriptions to back up the titles, nor photographs, so the only option was to ask the girl what was included in each.  Essentially it came down to small, medium and large, so I chose medium for £4 with a hash brown rather than canned tomatoes – or as it turned out, three hash browns.
Look at the photograph above and tell me what you think, honestly.  OK, I'll tell you: the bacon was so overcooked it could barely be hacked apart with a knife; the sausages were also burned to a crisp and barely edible; the beans were cold. Goodness knows what they had done to the mushrooms, but they were practically ossified – tough as plastic and less tasty.  The only decent part of the meal was the egg, since that was the only component cooked fresh to order.  The remainder had been hanging around for some time; it was obvious from the appearance, let alone the taste, that this was a disaster zone, though the staff did not look as if they cared two hoots – they are not paid enough to care.  Even the coffee was lukewarm and barely strong enough to crawl out of the mug.
On the strength of this comparison, I'd say go to Morrisons ahead of Asda every time if supermarket breakfast is your goal.  Sainsburys is also worth a look, since they do a reasonable eggs Benedict, though the best option of all may well be a small independent cafe or making it yourself freshly.  Shop in Asda, by all means, but please don't eat breakfast there.