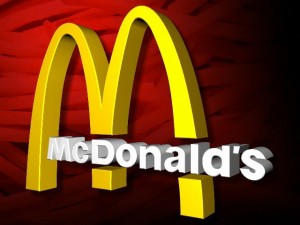 Some might accuse me, with some justification, of preferring to review great restaurants with a mouth-watering array of beautifully-presented freshly cooked dishes, all laden to the hilt with expensive cheffy touches.  Well, I can't deny enjoying the finer things in life and being prepared to pay to get something special, but thought since a friend has two children working at McDonalds then maybe I should attempt an objective assessment of said burger chain.
After all, it would be very easy to take the highbrow route and slag McDonalds off for what they are and what they represent, and indeed for the highly sinister clown that embodies the McD image.  So many obese Americans are addicted to the goods and apparently can't adopt a balanced diet for their own health and well-being, clearly not the ideal image – though it fuelled lots of cash into the company for the past 60 years.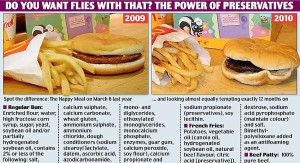 It's undoubtedly true that the organisation had a rough few years, closing a swathe of restaurants in response to declining profits, widespread public concern over the health values of their products (eg. calorific value, salt and sugar content), additive content, their contribution to tearing down rain forests to rear cattle, their animal welfare values and much more besides – not least Morgan Spurlock's Supersize Me experiments on McDonalds and the effects of eating burgers for 30 days straight, plus the McLibel court case which won McD a phyrric victory but lost it many friends.
In the meantime the golden arch strategists have been strategising, the chefs have been cooking up alternatives, the interior designers have been softening the McD image, Ronald McD seems to have stepped quietly into the background (arguably he should have been put out to grass donkeys years ago), and the restaurants are slightly reinvented to appeal to a wider market segment, without losing touch with their hard-core burger-chewing fan base, including the option to "upgrade to large" for a nominal sum – the "supersize" option widely condemned by nutritionists.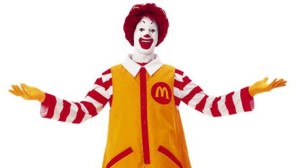 Has it worked?  Well, the outside of any McD is still plastered high with their golden arch and bright shiny red and yellow brand marketing – which in many ways is the most offensive aspect of the whole concept.  Inside, walls may now be covered with abstract blobs of colour and other murals mimicking blades of grass, but the core fast food fulfilment systems are much the same – you queue and order, eat in or take away.  Food still arrives within about 90 seconds along the conveyor belt.  Brightly coloured plastic bucket seats and formica-covered stain-resistent tables abound, but nowadays the paper table mat stresses local UK sourcing, farm assured standards (with which I take issue, but will address separately), and on the reverse side provides a complete nutritional analysis of every product on the menu, including allergen information.
This practice is widespread in the US, where you will often see the calorific value of items displayed next to the price on the counter menu, but almost unheard of in UK fast food restaurants.  As with grocery labelling, improved information may not be legally required in the UK but I fail to understand why more companies don't do so as a standard to provide assurance to their customers… unless they have something to hide, that is, in which case surely we should know about it?  Well done to McDonalds for being upfront – one lesson well learned, though it shows you just how tightly the products have been commoditised and measured down to the last bean, which to my point of view is never good.  No doubt there are plenty of calorie-counters out there, but to me there are more important things we should be measuring – quality ahead of quantity?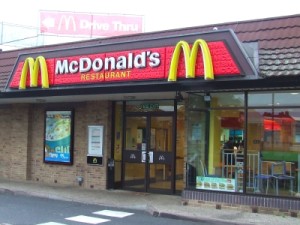 Staff are obviously well imbued with corporate philosophy: you are greeted with a smile and a friendly word, something you could not say of all UK restaurants.  Maybe Brits prefer to be greeted with a sour-faced grunt and reluctant service in order to give us something to moan about, but the American customer-first approach seems to be winning out, though thankfully not with an insincere "have a nice day" to follow.
Most familiar options are still there – Big Macs and Quarter Pounders with cheese, chicken burgers etc, though the menu board goes big on emphasising "healthier" (fat, sodium and sugar content may suggest otherwise) chicken and wrap options.  A few salads have nudged their way alongside the fatty double beef & bacon burgers, some still laden with calories but some with headline figures making them worthy of splashing on the marketing blurb, though I suspect the latter selections are notably lacking in anything tasty or remotely appetising.
And talking of appetising, what of the main menu?  I do struggle to find things I fancy on a McD's menu, and often wish the manufactured and reheating frozen products would sometimes give way to local specials, properly cooked stuff for a bit more cash, something in which staff could take a pride rather than force-feeding us with the corporate production line.  Franchised the restaurants may be, but it would be lovely if they felt less corporate and more personal.  Lack of caring is one of many downsides to high volume, low margin businesses, but ultimately it does not succeed for long – as Ryanair CEO Tony O'Leary is now finding.  After years of treating passengers with total disdain, he is now ramping up customer service.  McDonalds would do well to remember that lesson.
However I am clearly in a minority, since McD clearly believes customers value consistency – that wherever you are in the world, while concessions may be made to local tastebuds, a Big Mac is still a Big Mac.  What you see is what you get.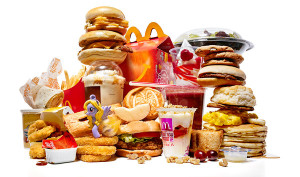 The Quarter Pounder container is typical of the food industry, showing mouth-watering pics of individually hand-made ingredients lovingly put together to make your product.  None of the mass manufacturing that would be much closer to reality.  However, there is a clear statement of intent on the box:
"100% beef and a double helping of cheese. Simple. quality ingredients only made better by adding the onion, pickles, tomato ketchup and mustard in a sesame seed bun.  I'm lovin' it ®".
In view of the recent controversy about what sort of meat goes into a McD burger (not in the UK, they claim), you can't guarantee this is prime rump steak lovingly minced for your dining pleasure.  It is a mass-manufactured patty containing beef product, though it would seem a sizeable proportion of McD regulars are prepared to overlook the content and munch on anyway.
OK, so to the tasting:  how does it stand up to that claim?  I chose a  £4.49 QPwC meal, including medium fries and small vanilla milkshake.  The burger itself, as in the meat (which Wendy's famously compared unfavourably with their products in the "where's the beef?" campaign) is not bad in flavour, though tastes somewhat bland (maybe that is what a McD buyer wants?) but is guaranteed free of bone and gristle.  It's OK, not bad, not great, not bursting with beefy flavour.  I like the pickle and seasonings with it, and would if anything have had more sliced gherkin, but that is a very personal choice – there seems to be no McD's option to customise your burger, though if for example you wanted to leave out the pickle, they would probably accommodate you.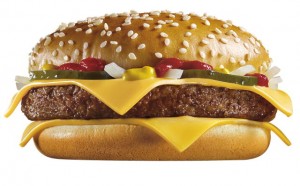 However, I don't like the "cheese" or the bun.  The latter is soft, sweet, unpleasantly cloying and has no texture whatever.  Why can't they do a proper bun made with quality bread – maybe something like the now ubiquitous ciabatta for example, top class bread – fresh and appealing, not preserved to within an inch of its life and churned out in a factory by the million.  A crisp fresh roll would make such a positive difference to this product, but it looks like we're lumbered with the box standard American product.  Black mark for that.
The heavily processed yellow melty stuff that passes for cheese is frankly an insult to the name; it does not deserve the title cheese, so you wonder why the Trades Descriptions Act does not apply.  I hate to think what goes into it, but it's definitely time that proper grated cheddar or maybe even some gruyere were included as an option on the McD burger for the benefit of all mankind!!  To say the public likes it or that it sells is not good enough.  Doubtless we would buy arsenic burgers if it came in a McD box!
The fries are quite heavily salted but fairly pleasant.  They are what the French call allumettes, fried from frozen but crisp and functional.  But the best bit for me is the milk shake.  Yes, I admit it folks – I do have a weakness for their milk shakes.  Over-sweet, calorific and impossibly ice cold to the point that they burn your teeth they may be, but I do rather enjoy them (blush!)
In summary, I don't think the products sampled give especially good value for money (you can after all have food for pennies that is a total rip-off and a meal costing £100+ that is an absolute bargain), and I'm damn sure you can get healthier options for the same price.  but the appeal appears to be enduring, judging by the throughput of people going for lunch at the same time as me.  Many were mothers with young children, some were business people, students, all after a quick and moderately filling dinner from a known source.  There are lots of things I can argue with, but evidently the formula works for many, and that is what keeps the Golden Arch profits rolling in – it's a volume market.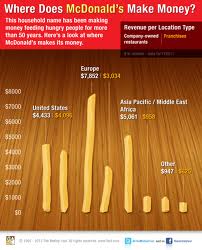 I just wish people did not accept the standard stuff and chose to demand something a little more unique for a few pence more.
PS.  Since this was written, I've eaten an Aberdeen Angus burger in Burger King.  The bun and the burger itself were a slight improvement on McDs, at a slightly higher price.
PPS.  Also notices that KFC print calorie counts on their menus.  In their case, it is frightening: 3 pieces of their traditional chicken recipe weighs in at a whopping 1275 cals!!