Chadni is one curry house among many within Chelmsford, let alone Essex, let alone South East England.  The menu is not unusual or different – the same range of jalfrezis and rogan joshes, tandooris and pasandas, bhajis and masalas, dansaks and dopiazas, Christmas specials notwithstanding; prices are reasonably standard, maybe a small notch above the mean, but not in the league of the TV chefs, for example.
So what does differentiate one Indian from another, you might ask? Assuming I fancied a Ruby Murray, why, in this competitive market, would I choose to spend my hard-earned cash for a meal in restaurant A rather than B, C, D, E, F or G?  This was the dilemma facing a friend and me on a night out at the theatre: we needed pre-theatre grub, had not booked but had to find somewhere for a bite.
The first factor in Chadni's favour was location – its position on Springfield Road was ideal, not because it is very near Chelmsford prison but because it is a short hop down the road to the Old Court theatre, where we were going to see the CTW production of The Odd Couple.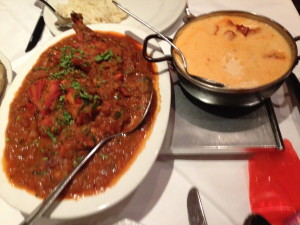 Chadni is not the only Indian on that stretch of road, but I had not been there and it looks slightly upmarket.  The decor of a restaurant may influence some, and in that respect Chandni is clearly geared up to appeal to those looking for a stylish place to be seen, a far cry from the days of flock wallpaper, sitar music and customers who demanded pints of lager and the hottest curry just to demonstrate that they were true men.  Here it is stripped pine flooring, better than your average seats, designer colours, interesting wall-hangings – just a tad out of the ordinary, for better or worse.
The second factor at play here is service.  Walking into the restaurant, we were greeted by the maitre d' like old friends – a warm smile and a handshake, which may have been related to us being his first customers of the evening, though he seemed equally old school charming with everyone as the restaurant rapidly filled up.  This might seem like stating the blindingly obvious, but it's astonishing how many restaurant staff around the world greet you with a scowl at best and total contempt at worst.  Surely it's obvious you will get better tips if you smile, demonstrate your knowledge about the menu, be helpful where it is required and otherwise discreet; in other words to serve the customer – so credit to Chadni's staff for doing precisely that.
At any rate, we were led down towards the business end of the restaurant – which goes back a surprisingly long way.  Drinks and popadoms with chutneys followed swiftly while we chose from the menu and pulled the cheap crackers left on the table to get us into the festive mood.  Surely out of place, given that many "Indians" are actually run by Bangladeshis, who for the most part are Muslims.  Maybe some celebrate the secular Christmas anyway, but when you cater for the Christmas party market then some effort is presumably required.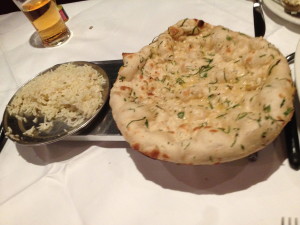 Meanwhile starters arrived: my friend had a nicely spicy reshmi kebab, a lamb burger by any other name, but attractive and tasty.  My king prawn puri was perfectly acceptable – nothing wrong with it without ever hitting any gastronomic heights, a few meaty prawns in there but nothing much to write about.
The mains lived up to their names too, mine being a mixed grill bhuna, the tandoori mixed grill you normally see among the starters (tandoori chicken on the bone, chicken and lamb tikkas, plus a seekh kebab) coupled with a standard thick bhuna sauce.  My friend ventured into unknown territory with a makhoni chicken (usually spelled makhani but some things do get lost in translation.)  This is commonly rich, creamy and buttery – not therefore to be included in any low-fat diet or for anyone with a stomach ulcer; sometimes it includes paneer, but it's the cream and butter that count – and the dish was swimming in both.  Which reminds me that the pilau rice served was a tad greasy, while the garlic nan was fine without being exceptional.
In short, the food was OK but not the reason you would select Chadni, though of course you get the ubiquitous hot towels – a nice touch common in almost all orientals.  Skipping over desserts, we asked for the bill and were offered a complimentary drink – another nice touch which some would probably feel they could manage without and which is of course charged through the food and drink prices.  But it works – it makes you feel more cared for.
So in conclusion, that's why you would choose Chadni – because they at least try to care and make you feel like a valued customer – though thankfully they stop short of asking you to join their mailing list.  That's really the point about running a restaurant, isn't it?  You want customers to return, to treat your Indian as your local home-from-home, to go there for your takeaways and your special night out.  One-time transactional relationships with customers won't get bums on seats for those quiet nights.  I may well go back to Chadni someday – wait and see!