Let's start by saying that I do love cricket, even if I don't like the sport's administrators for a variety of reasons.  Far from just being a quirky British & Commonwealth version of baseball, cricket has its own mystique and culture.  But if any sport polarises the populace, cricket must be the one.  Reaction falls broadly into four camps:
"Totally baffling, old boy"
"Bores me rigid"
"Don't mind T20 but wouldn't watch a match going on for days"
"The ultimate battle between gentlemen, and endlessly fascinating."
My personal fascination with the game began in the early 70s.  Time was when cricket was featured extensively on TV: Test Matches, the Gillette Cup, the Sunday League, everything.  Even on a tinny old B&W TV, the magic was there from the start.  Great moments abounded, probably from Lancashire winning the 1971 Gillette Cup – David Hughes scoring 24 off the penultimate over in near darkness to win the semi final in Worcester, Jackie Bond's soaring dive to catch an Asif Iqbal full-blooded drive in the final as mighty Lancs saw off Kent.  Even now those moments make the hair on the back of my neck stand on end.
So it was that during school holidays or occasionally on Saturdays I began to catch the train from Wilmslow to Warwick Road, as it was then known.  The Old Trafford cricket ground is literally right by the station, and in those days you could queue at the gate and get into pretty much any match without any hassle, and very much cheaper than now.  The only occasion the ground was nominally full, I will admit to following some other people over the wall (blush!), to which the only security guard thereabouts turned a blind eye with a smile on his face.
Cricket was the antidote to sports culture – you could and did talk to anyone, regardless of who they supported, no fights, filthy chanting or drunken behaviour that I ever saw.  You went there, paid at the gate, settled yourself down on the benches (with your packed lunch and flask nearby), relaxed and enjoyed the atmosphere.  Yes, there was cricket, but there was so much more too.  You could sunbathe, talk to your neighbours, observe the people watching from nearby blocks of flats, enjoy the radio commentary with John Arlott and Johnners, keep score if you were statistically minded (I was), get autographs – sometimes when the players were fielding in the deep, and much more besides.  A day at the cricket was always such a blissful experience, some of my happiest childhood memories were from days at Old Trafford by myself.
And as for the cricket, what teams I got to see: India in 1974 with the little maestro Sunil Gavaskar scoring a century; Lancashire v the great Aussie team of 1975 – Lancs all out for 189 on day 1 (Lillee & Thompson bowling), but the Aussies (both Chappell brothers batting) 37-5 at the close!  The 1976 West Indians with their quartet of fiery pacemen making mincemeat of a dour England side, including John Edrich, Brian Close and David Steele. And the joy of watching the flamboyant Windian batting – Greenidge and Richards scoring centuries with true panache, matched by the drumming and can-banging of the joyous West Indian supporters!  It was always a joy to see such great spectacles, and that tingle of excitement never left me.  There is a poetry to cricket that few other sports can match.
Whenever I can, given the costs are now much higher and the fact that taking a whole day is not always possible, I love to go see some cricket.  These days it tends to be the odd one-day game and T20 (of which more later) at Chelmsford, often with Adam.  But to begin with, let's tackle the critics head on:
Firstly, that the rules are baffling:  I maintain that they are more easily understood than rugby, and that much of the confusion lies in the LBW law, which is undeniably and unnecessarily complex.  Apart from that, some arcane language and eccentric names for fielding positions, what is there in cricket that cannot be followed easily?  Nothing I can think of, but if there is then please raise it and I will respond!
Secondly, the duration of matches.  Test Matches with two innings per side last for up to 5 days, County Championship games for 4 days; most one-day games are one innings per side, typically 40 or 50 overs, and T20 games are, as the name suggests, 20 overs per side.  The irony of cricket is that T20 games, the reinvention of the game to fit into a 3-hour window, is now the most popular and, demand and supply being what it is, the most expensive to watch, Test Matches apart. For purists T20 is an anathema – hitting out, no chance to build an innings, plus all the trappings of American sport – the coloured suits, the silly team names, the daft musical introductions.  I don't begrudge cricket its money-spinning venture, though it does seem at times that other forms of the sport are drowning in T20's wake, which is a pity.
In the longer form of the game, you have an even contest between bat and ball, the opportunity to apply strategy and tactics to outwit your opponents over a period of time – much like a game of chess.  This is a sport where a ball that passes the bat or a good defensive shot may be as or more skilful than a wild swipe caught in the deep or a slog-sweep for 6, but to appreciate the subtleties of the game requires patience, a commodity singularly lacking in a society demanding instant gratification.  Remember that defence is as much an art as attacking play, and to do so with elegance and style is as worthy of note as shots that are spectacular and probably achieve the 4s and 6s but are manifestly ugly to watch.
More than that, you have to build in powers of endurance and concentration for batsmen and bowlers alike – feats which seldom if ever occur in lesser sports.  Golfers may have to work for several days on the trot, but to  nothing like the same level of intensity, whereby you could find yourself as a cricketer batting for hours, bowling 20 or 30 overs, and fielding through the long day – 6 hours a day, up to 5 days at a time.  Not something to try if you're unfit, for sure!!
Slowing down and taking time to enjoy the nuances of a game at leisure is about as relaxing as life gets, so don't rush the joys and pleasures.  Enjoying a proper game of cricket is much like the way that unwinding to take a leisurely longboat holiday on the canals takes a little while, and then suddenly you realise how delightful it can be to step  off the hamster wheel and take your time to enjoy things slowly.
Field placings are set carefully to lure batsmen into particular strokes, balls are bowled to tempt, and the wise batsman will take his time and pick out the bad balls to strike for a well-timed boundary.  Contrast that with T20, where all art and science are lost, the ball is not played on its merits but blasted into next week.  I'd urge any potential cricket fan who thinks every ball should be hammered for six to consider instead the merits of appreciating a game in the longer format and watching carefully how bowler and batsman conduct their battle of wills.
Viv Richards was unquestionably a teenage idol for me, and it was he that sold me on the sport.  Not only did he hammer bowling to all parts of the ground in any conditions, but he did it with such fluid grace, elegance and economy of effort – all in the timing and control, no brutality required – more like a gymnast than a well-built cricketer.  Richards' batting was a thing of beauty, to be enjoyed for the intrinsic delights of seeing him.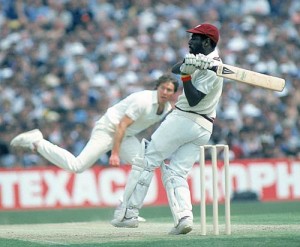 But even then, whatever the form of cricket, there are those great moments to cherish, the players who make things happen and create a buzz around any ground when they have the ball in their hand or their bat on the crease.  Great moments like Gary Sobers' six 6s in an over, Shane Warne's first ball in a UK test to Mike Gatting, great batsmen like Richards and bowlers like Waqar Younis, though I could quote many many more.  Even fielding is worthy of appreciation, and great catches too.  Everywhere you look there is something to admire on a cricket pitch, if you just take the time to do so.
Yes, there are rivalries, sometimes intense rivalries, and certainly controversy, but for the most part this is the civilised sort of game where players and spectators mingle, and everyone can have a great day out without getting hurt, other than in the pocket.  If I have a problem with cricket, it's that the administrators are killing the goose that lays the golden egg by putting on endless meaningless international series around the globe – Tests, ODIs, T20, the lot.  It's too much for players, who are more injury prone, hugely expensive for spectators, and saturation is simply not helping the special nature of the game.  Preserve the magic – sometimes less really is more.
PS.  Just to stir up emotions, this piece will give you a laugh:
TEST cricket is brilliant and if you disagree you are less than a buffoon, according to experts.

As the Ashes became as exciting as smoking crack in a suit doused in petrol during a high-speed car chase, anyone bemoaning the lack of action in cricket will be forced into a re-education camp.

Cricketologist Wayne Hayes said: "You can get arseholed whilst watching it, it's officially not allowed to be played when the weather is terrible and yesterday pissed off the entire continent of Australia.

"If all of that isn't enough for you then you're operating on a level of jaded I can't actually comprehend."

Anyone continuing to doubt test cricket is the pinnacle of mankind's achievement will be sent footage of Viv Richards in action and given seven days to suggest anybody with half the amount of suave.

They will then be forced to watch footballers acting the giddy arsehole for eight hours straight, to see how it compares to watching a test side actually do a day's work.

Former football fan Roy Hobbs said: "I used to dismiss cricket as being for old men, but then I realised what I was actually saying was it had a bit of dignity about it and didn't require the attention span of a mayfly. So from now on other sports can kiss my cork-centred, leather-bound balls."

"But Geoff Boycott can still sod off, obviously."