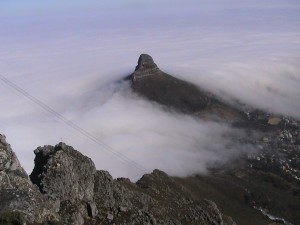 One of the great attractions of doing an MBA with what was then Henley Management College (now part of the University of Reading – see here) was the international study trip.  No, not a tour of the battlefields of Normandy, but a fully fledged week in a location of genuine interest.  In my year there were four possible destinations: Beijing, Kuala Lumpur, Cape Town and Budapest.  We were required to state our preferred destinations in order, with the results being declared by drawing lots. Seemed a bit unfair to me, and so it proved – those allocated Budapest were up in arms, so the Director of Studies, a lady by the name of Jane McKenzie who is both brilliant and amiable in equal measure (she is now a full professor), smoothed the waters and arranged for extra places to be allocated in the other locations!
Thankfully, my name came first out of the hat for my no 1 choice: Cape Town.  I had been to Beijing, and was considerably less bothered by KL or Budapest (the latter I visited last year, but that is another story.)  I am exceedingly glad it did work out, because I would not have missed the Western Cape!
The flight to Cape Town is 12 hours from Heathrow, but with only one hour time difference jet lag is almost eliminated… you just arrive feeling very tired!  We got through the airport there at around 6am and were bundled straight into a coach.  It proved a totally surreal introduction: from a metal tube to the most magnificent coastline in less than an hour.  The tour took us down to Hermanus, a quaint and beautiful little town on the southern coast of WC, not far from the famous Garden Route.  We paused for breakfast at a little cafe then were taken to the shore, where a mother and calf Southern Right Whale were literally right by a jetty, allowing tourists to take photographs.  Nature, I concluded, could be incredibly wonderful at times.
A stunning sight indeed, but our introduction was not yet over.  From there we were ferried just a few minutes inland to the Hamilton Russell vineyard for a tour of the business and the opportunity to ask questions.  In fact, this was the first of several businesses we visited that week, and the one on which I was later to do a presentation and write an assignment, but at that moment it was a beacon of joy – and the only time in my life when I have sampled vintages of fine chardonnay at around 9am!!  If you find any HRV in the UK, it will probably retail for at least £20 a bottle for recent vintages, so this was no small event.
The week was quite structured.  We spent mornings enjoying lectures on the state of Subsaharan Africa its population and its business issues, including one from a chap by the name of Sean, whose lecturing style was equated to drinking from a fire hose!!  This opened up some of the key dilemmas… the traditional patterns of migration, the difficulty of educating a shifting population, overcoming poverty, the unspoken institutionalised racism among Afrikaners, the incestuous nature of South African business and the difficulty of attracting in large-scale capital… it went on and one, absorbing, fascinating and daunting by turn.  The ANC government may not be blameless in its attempts to overcome generations of misrule and sanctions, but the problems it has had to overcome are truly immense.
In the afternoons, we had trips planned.  Some days it was to businesses, like a Bank, an Internet provider, and finally a trip to a tyre factory.  The first two confirmed what we knew, particularly regarding the insular nature of South African companies, but the latter was infinitely more revealing.  The tyre company managers were Afrikaners and every worker on the shop floor was black.  We were told about the company, its strategy and issues, but then taken on a tour around each department.  At one stage we were taken for a demonstration of one machine.  The manager did not say anything to the worker, a slim and lithe man in his early 40s wearing grimy blue overalls, just nodded.  The guy looked nervous but did his job, then the party moved on to the next area.  A few of us stayed behind to thank him.  "Yes baas, sure baas," all said while looking humbly down at the ground.  Rarely have I been made to feel that humble.
Arguably the highlight of the visit was the afternoon we spent at the District 6 Apartheid Museum, and then on to a tour of the townships (including Crossroads, Khayelitsha, Langa and Gugaletu) and shanty towns that I believe should be compulsory for all visitors to South Africa.  The trip was organised by a young guy who came out of one of the townships.  He was one of the lucky few who gained a scholarship and a business education, then turned his skills to helping the local community from whence he had come by setting up a business organising tours.  It brought money in, but more to the point opened to the world just what conditions were like.
The memories that stand out from that tour, notwithstanding the descriptions of where troops opened fire indiscriminately and killed innocent and unarmed people, were far more about the humanity of the community.  I took a beautiful picture of a woman with her four children.  She was living in a hostel for abused women, sharing a room barely bigger than a prison cell with another woman and her children.  The bunks were stacked three high, the pain and misery of their lives clearly evident… yet the children looked radiant and joyful.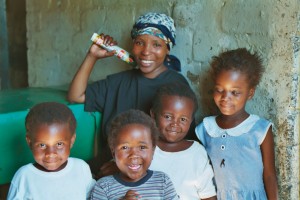 The men invited the guys in our party to share their local home-brewed beer, which tasted sour and milky.  We were later told that it was probably not a good idea but that it would not damage us too greatly!!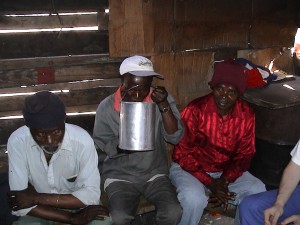 But it was the children that most captured our attention.  They were fascinated with us, with our cameras, our clothes, our watches, everything about us.  Many were fascinated by my camcorder, particularly when I turned the screen around so they could see themselves!  They bore on their faces not only curiosity but a noble and dignified sadness. and sometimes smiles of sheer joy.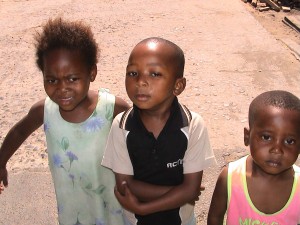 As we went on the tour the coach stopped in a shanty town which went on as far as the eye could see.  From a ridge, we could see the ground fall away towards the coast, populated by big secure compounds owned by the rich, while on the other side ramshackle huts made from corrugated iron stretched away into the distance.  No electricity or running water, 80% unemployment, extremes of poverty we barely see in the UK, and little hope.  However, for those women who did work, there was a kindergarten run collectively by the community.  The children showed no resentment, just joy at our visit.  They practically threw themselves at us, so I have a series of pictures of my colleagues with one or even two beautiful children in their arms.  Arguably one of the most moving and humbling moments in my life.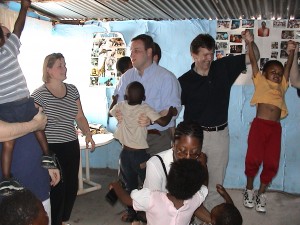 That evening we were scheduled to go on a yacht tour of the bay, the flipside of the poverty.  Some of our group felt unable to go, such was the impact of the township visit.  In truth, the trip at dusk with Table Mountain in the background was breathtaking and magnificent, but the mood was subdued.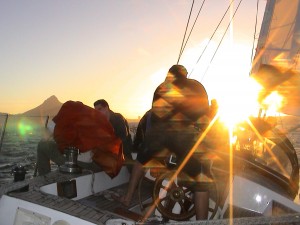 Going up Table Mountain was something you simply have to do while in Cape Town.  The cable car gives astonishing views, and the surface is populated by large rodents, the like of which I have never seen anywhere else.
On other days we sampled the bars and restaurants of Cape Town, best of all being the visit to Camps Bay, the beach on one side and the steep walls of Table Mountain on the other.  As the sun went down, we tried bars and eventually chanced upon a seafood restaurant.  This was the most amazing experience: oysters, prawns the size of lobsters, lobsters the size of armadillos, fresh tilapia and more, all from the charcoal grill and washed down by bottles of local wine.  Rarely has seafood been so attractive!!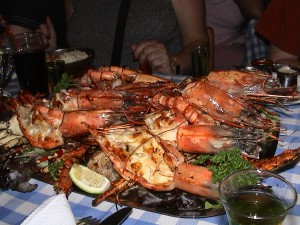 On our last day there was a formal dinner at a big hotel in town, a meal which included local delights such as smoked crocodile, and after which a few of us indulged in the Whisky & Cigar bar.  That was probably the most expensive round I've ever ordered, but a memorable experience too!  We also had time to indulge in shopping trips too, notably at the expensive and touristy Victoria and Albert dock.
I have no doubt the docks, the mountain, the yacht trip and visits to Hermanus and the Garden Route are the image the tourist industry would want to convey.  It is a large, very beautiful but troubled country.  Much as I would love to go back and see these sights and more, the memory that lingered longest was the townships, which is why some of us donated to a charity that sent students from the townships to business schools.  I hope some good came of this tiny gesture.  Someday I will return and maybe find out more about South Africa and its people.